Linda Ronstadt fans arrived early on Sunday, forming lines that snaked around both sides of the University of Arizona Memorial Student Union and clogged the walkways at the Tucson Festival of Books.
Some waited hours before the doors to the Student Union North Ballroom opened for the 1 p.m. conversation with Ronstadt and her "Feels Like Home" co-author Lawrence Downes.
When they were finally allowed in, the crowd filled every one of the 1,000 seats to hear Ronstadt, arguably the most famous person to come from Tucson, speak about her hometown, her family's deep Sonoran and Tucson roots and, of course, her music. It was the first public appearance in Tucson for the 11-time Grammy-winning, Rock and Roll Hall of Fame singer since she was here last May for the dedication of the Linda Ronstadt Music Hall.
Moderated by former Arizona Daily Star columnist Ernesto Portillo, the conversation meandered from her 2019 trip to Banámichi on the Rio Sonora — five hours from Tucson by car — that inspired her to write "Feels Like Home", to her family's history in Tucson, from brother Peter serving as Tucson police chief to her grandfather and father running the family's namesake hardware store on the downtown footprint that is now the Ronstadt Transit Center.
"It's a love story and it's an intergenerational story," Ronstadt said of the book, which she and Downes started writing in 2020; it was released last October.
That sentiment also could describe Ronstadt's homecoming on Sunday. Generations of fans, from those who looked to be close to her age — late 60s to mid-70s — to young women, from the singer-songwriter who asked for advice for those pursuing Ronstadt's musical path, to recent Pueblo High School grad and mariachi vocalist Giselle-Paris Aubrey, who serenaded Ronstadt at that May dedication ceremony with the singer's signature hit "Blue Bayou."
Throughout the hourlong presentation, Ronstadt, who has Parkinson's-like progressive supranuclear palsy, had to strain to hear audience members' questions and those from Portillo and Downes, who were sitting next to her at a table on the stage.
"The problem with getting old is getting deaf," she deadpanned, prompting laughter and quiet applause.
Ronstadt told the audience about that 2019 trip to Banàmachi, Sonora, and sitting in a courtyard across from a church where she was certain her great-grandmother Margarita Redondo Ronstadt had baptized her grandfather, Federico José María Ronstadt. She considered how hard life must have been for the family, carving out an existence from their lush but challenging corner of the Sonoran Desert, and how that had informed the generations of Ronstadts that followed.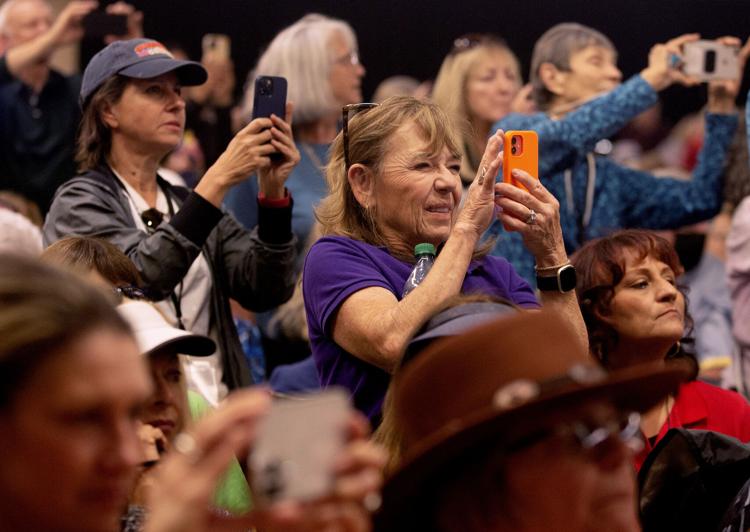 She and Downes had initially set out to write a Sonoran-Tucson cookbook, but after finding letters from her great-grandmother to her grandfather when he immigrated to Tucson as a teen, and when she reflected on the Ronstadt family's deep history in the region, her cookbook turned into what she and Downes like to call an "edible memoir." The book includes 20 of Ronstadt's best-loved foods from Tucson featuring recipes from her family and her favorite restaurants.
When Portillo asked Downes if he had tried any of the recipes or, more importantly, had he prepared any for Ronstadt, the 76-year-old singer sporting a shock of short white hair piped up, "Are you talking about how I can't cook?," which prompted more laughs.
During a 15-minute Q&A after the talk, fans asked the singer about everything from her relationship with Neil Young ("He was one of the most interesting songwriters I knew") and what she thought about her Trio partner Emmylou Harris ("She's one of the best singers I ever heard") to her favorite places in Tucson: the Mission Gardens and Arizona Inn, which she said "is so beautiful. … I grew up about a mile from there."
When asked if she thought at the time she recorded "Different Drum" in 1967 that it would be an inspiration for women, the singer said that never crossed her mind.
"I just thought it was a cool song," she said. "I picked songs that didn't make me sound so bad."
While many of the audience members who spoke recounted how Ronstadt's music affected them, Santa Cruz County Sheriff David Hawthorne shared a much more personal family connection. He told Ronstadt that his family had deep ranching ties to Santa Cruz County and Southern Arizona and had done business with her grandfather.
He then presented the singer with a sheriff's coin.
Photos: 2023 Tucson Festival of Books