[ad_1]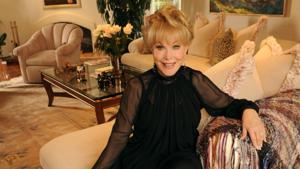 Nick Thomas
Tinseltown Talks

Sixties television icon Barbara Eden may have grown up in San Francisco before taking her career to Hollywood, but the 91-year-old actress still views her native Tucson with much fondness.
"I was born there but my family left when I was around 3," Eden recalled from her home in Los Angeles. "I remember our house was right next door to an empty lot with a horse on it, but that's about all. Then we moved to El Paso, Texas, to live with my grandma and grandpa, and my mother remarried before we relocated to California. I love San Francisco, but I've always felt Tucson was my home and have been back over the years. Even as a little girl growing up, I knew that's where I was from."
Eden's mother was born in El Paso and later moved to Tucson, but then the Depression hit.
"My grandfather was a contractor — a builder," she said. "He moved to Tucson because he was building a high school, which I think is still there. But after the Depression, it was probably for financial reasons that we left for Texas."
Growing up in San Francisco, young Barbara had dreams of becoming a singer, spending two years at the local Conservatory of Music and taking singing engagements with bands around the Bay Area. But after moving to LA in the early 1950s, her stunning beauty, charm, and talent inevitably led to Hollywood.
Best known for her role as the magical genie in the popular NBC 60s sitcom "I Dream of Jeannie," Eden has delighted fans of the series with appearances at TV conventions and Hollywood autograph shows for decades. On March 31, she will present "On the Magic Carpet" in Newton, North Carolina, followed by an appearance in Clearwater, Florida, on April 2 (see barbaraeden.com for details).
"I'll be interviewed on stage, show clips of my film and TV career, and take lots of audience questions," Eden explained. And while some actors who became closely associated with one standout role occasionally distanced themselves from that character, Eden never did.
"Why would I want to step away from it?" she asked. "I'm lucky to have very polite fans and have loved meeting them over the years in so many cities."
Even before she soared to fame with "Jeannie" during the second half of the 60s, Eden was traveling the country a decade earlier promoting her first regular starring role in the late 50s TV series "How to Marry a Millionaire." Based on the successful 1953 movie of the same name starring Marilyn Monroe, Lauren Bacall and Betty Grable, Eden played the ditzy blonde Grable character, Loco, which led to her returning in her mid-20s to Tucson for the first time since childhood.
"I was under contract to 20th Century Fox and we were on tour promoting the show," she explained. "One of the stops was at a theater in Tucson. In fact, I was there more recently, and the theater manager had a photo of the three of us (Eden, Merry Anders, and Lori Nelson) that was still in his office."
While always most closely associated with "I Dream of Jeannie," Eden's entertainment career has been extensive and broad with over 25 film roles, appearances in numerous TV movies and series, and a vast stage career that includes touring major U.S. cities, including Tucson in the beloved play, "Love Letters," first performing it with "Jeannie" co-star Larry Hagman.
"It's beautifully written and has this wonderful arc from childhood to death as you follow the two characters who are life-long friends," said Eden. "I have done that with Hal Linden and Barry Bostwick as well as Larry. It's funny, sad and has everything in it and is a joy to perform."
Eden is also an author, releasing her best-selling autobiography "Jeannie Out of the Bottle" in 2012. Two years ago, she also published her first children's book, "Barbara and the Djinn," which perhaps not surprisingly features a young girl named Barbara and yes, a genie.
"The little girl is the protagonist and magically travels to different places and meets different people learning what is most important in life, which is kindness and understanding," she explained. "I've loved to read ever since I was 3 or 4 when my mother and aunt would read to me. I thought how sad that children today just look at their phones and computers, so I wanted to give them a book to hold that can take them on an adventure using their imagination."
While she has no plans for more books, don't be surprised to see Eden appearing on stage again.
"I don't have any dates, but I'd love to do 'Love Letters' again," she says. "It's gratifying that people still want to see me perform and hear me talk about my career."
Nick Thomas teaches at Auburn University at Montgomery in Alabama and has written features, columns and interviews for numerous magazines and newspapers. See getnickt.org.
[ad_2]

Source link