[ad_1]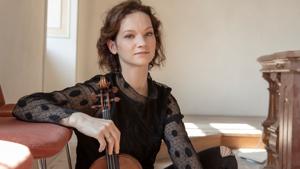 Violin great Hilary Hahn walked onto the Linda Ronstadt Music Hall stage Wednesday night and drank in the deafening applause mixed in with a whoop-whoop coming from a woman in the fourth row. 
Hahn should have expected no less of a greeting from Tucson. After all, her concert with the Tucson Symphony Orchestra on Wednesday, March 22, was her first since her TSO debut in 2007.
Can't blame the audience filling nearly all 2,289 seats in the hall for being a tad bit excited. They had waited a long time to see how Hahn would follow up her spectacular debut.
It's a cliché to say it, but here goes: Her concert with the TSO, under the baton of Music Director José Luis Gomez and the spectacular performance by the orchestra, was worth the wait.
The older, more seasoned Hahn, dressed in a floor-length sparkly silver and black gown, played Tchaikovsky's technically challenging Violin Concerto in D minor with the prowess of someone who had committed every note to muscle memory.
Her fingers flew over the fret and her bow bounced on the strings, top, middle, bottom with lightening speed. You couldn't take your eyes off of her for fear you'd miss some flash of amazing that would have you wondering how she created such crisp phrasing and pristine melodies.
If we're being honest, we still can't answer that question even though we never took our eyes off her for the 35 minutes she performed. 
Tchaikovsky only wrote one violin concerto and we can only speculate that he figured there was no way he was going to top his D minor. It's a beast; the soloist bears the biggest burden, with long stretches of frenzied passages that melted into softer, more elegant melodies before lighting up into a chaotic blur of fingers flying, bow thrashing.
Hahn bopped and swayed as she played. She became so immersed in the music that she seemed to forget there were 2,289 pairs of eyes focused on her every move.
When she wasn't playing, she was fangirling at the TSO, smiling warmly at Concertmaster Lauren Roth and the strings and giving Maestro Gomez a look every once in a while that said "we got this." The chemistry between Hahn and the orchestra erased the 16-year gap between her first and second appearance and invited us into what felt like a class reunion.
The Tchaikovsky is a signature work for Hahn; she has played it since she was a student and has recorded it, so it was not surprising that her performance Wednesday seemed to come from a place beyond the notes on the score. It's seeped in her DNA, rising up from the depths of her vast musical talent in ways that were both mesmerizing and thrilling to watch. 
The audience gave Hahn a prolonged standing ovation that prompted her to return to the stage four times. On the third time, she played Bach's Sarabande from the D minor Partita for Solo Violin, which garnered another round of applause from the audience and Hahn's final bow. 
Gomez and the orchestra opened Wednesday's "An Evening with Hilary Hahn" concert with Grieg's "Peer Gynt" Suite No. 1, bringing out the birds-chirping sunrise on the horizon opening that has been co-opted in TV commercials and "Saturday Night Live" skits; and Tchaikovsky's lush "Swan Lake" Suite, that served as an appetizer for the composer's concerto in the second half. 
[ad_2]

Source link