[ad_1]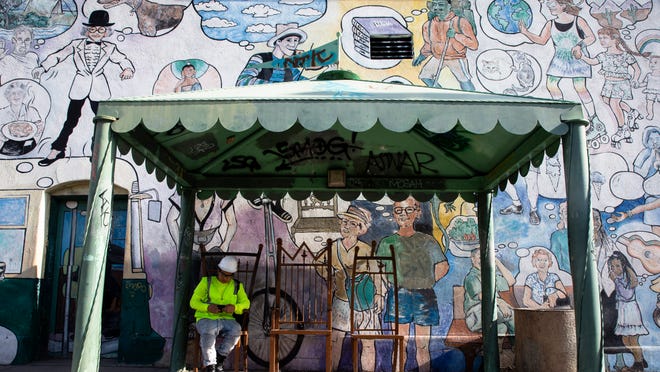 One Arizona city is in a class with Barcelona, Naples and the pyramids of Giza and Saqqara in Egypt as one of the world's best destinations.
Time named Tucson to its World's Greatest Places 2023 list, which published on Thursday, March 16. The list features 50 world destinations offering the most exciting experiences for travelers.
The publication lauded Tucson, about 112 miles southeast of Phoenix, for its innovative restaurants, historic neighborhoods and new boutique hotels.
Tucson is one of seven U.S. places on the list, joining the Willamette Valley in Oregon; Yosemite National Park in California; Bozeman, Montana; Tampa, Florida; Rio Grande National Forest in Puerto Rico; and Washington, D.C.
Best of Tucson:Your guide to Mexican restaurants, historic neighborhoods and things to do
Time celebrates Tucson's thriving food scene
Perhaps the greatest factor in Tucson's inclusion among Time's Worlds' Greatest Places was its culinary scene, one that led to recognition as America's first UNESCO City of Gastronomy. (Gastronomy is defined as the art and science of food.)
Don't take my word for it — Time's editors discussed food more than anything else in explaining why to visit Tucson.
What stood out to them was how award-winning chefs are using locally grown and Indigenous ingredients in their cooking. They cited Barrio Bread's Don Guerra, who won the James Beard Award for Outstanding Baker in 2022, for incorporating heritage grains like white Sonora wheat in his recipes.
"First brought here by 17th century Spanish missionaries, white Sonora wheat now crops up on the menus at restaurants like Maynards and the just-opened Bata and even in a Southwestern-inspired hefeweizen from Borderlands Brewing (Company)," Time wrote.
Borderlands also drew Time's interest for an upcoming collaboration with Maria Mazon, who competed in Season 18 of "Top Chef "and is best known for her popular Boca Tacos y Tequila restaurant. Mazon stands out for her "miniempire that now includes a tortilleria where you can pick up a bottle of her blazing chiltepín salsa, made with America's only wild native chili pepper," according to Time.
Best in Arizona:These Arizona chefs and restaurants are James Beard Awards semifinalists
Barrio Viejo history and charm makes Tucson a World's Greatest Place
Tucson has a rich history as one of the oldest continuously inhabited cities in the Southwest. It's home to more than 25 historic neighborhoods such as Menlo Park, once home to the Tohono O'odham people and their ancestors, and El Presidio, which was first inhabited around 700-900 and features some of the earliest surviving examples of urban row and detached adobe houses, two styles of Spanish-Mexican architecture.
But it was Barrio Viejo that was singled out by Time. The neighborhood is defined by its early 19th century Sonoran row houses and was once home to an eclectic community of Native American, Mexican and American residents, according to the Tucson Historic Preservation Association, which is pushing for National Historic Landmark designation.
Walking tours of Barrio Viejo are available, including one offered by the binational nonprofit group Borderlandia — cited in Time's report — that explores the region's history and architecture to explain what makes Tucson special.
Mission Garden:These 4 acres reveal Tucson's entire food history
New boutique hotels make Tucson stand out
Outside of the city's food and historical districts, Tucson is generating excitement for its boutique hotels, according to Time.
The Citizen Hotel, a 10-room "boutique wine hotel" with a wine cellar in its basement, opened last year in the building that once housed Tucson's first newspaper press. Guests can purchase wine bottles in their rooms, which have refrigerators to chill them, and enjoy complimentary wine tastings every day at 4 p.m.
Time also cited the upcoming opening of the Leo Kent Hotel, a boutique hotel branded under Marriott's Tribute Portfolio. Scheduled to open April 30 in the One South Church Building downtown, Leo Kent was listed among The Arizona Republic's most anticipated hotel openings in Arizona for 2023.
Mount Lemmon and more:Arizona was just named the No. 1 state for scenic road trips
Reach the reporter at [email protected]. Follow him on Twitter @salerno_phx.
Support local journalism. Subscribe to azcentral.com today.


[ad_2]

Source link