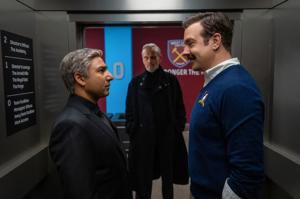 BRUCE R. MILLER

Pity the poor AFC Richmond fans. Their team is in last place at the start of the new season and the prospects don't look good.
In the season three opener of "Ted Lasso," rival West Ham United is in the driver's seat. Coach Nathan Shelley is poised to win big and there's a wild card on the field that could affect everything.
A new player, a new job, a new relationship and a new wrinkle are just some of the balls producers are tossing in the air.
In the first episode, Ted (Jason Sudeikis) sits on the sidelines while others sort out their lives. Keeley (Juno Temple) has her own public relations company; Roy (Brett Goldstein) is steaming over a reporter who has been given unlimited access to the team, and Rebecca (Hannah Waddingham) is determined to even the score with her haughty ex.
While the season takes time (and some close listening) to take off, it's in play by episode two and ripe with possibilities for spin-off series, should "Ted Lasso" end its run after this season.
When we last saw the series (nearly two years ago), Ted was trying to deal with a panic attack, Rebecca's ex had bought West Ham United, reporter Trent Crimm (James Lance) was fired after revealing an anonymous source, Roy tried to get away on a holiday with Keeley, and Nathan was announced as the West Ham coach – and the anonymous source.
Now Nathan (Nick Mohammed) is living large in his new stadium and wondering if, maybe, he made some wrong moves. He's also quite gray (worrying can do that) and about to make his big debut.
Keeley, meanwhile, doesn't know how to deal with her no-nonsense staff. They're too business-like and need a little shaking up. A friend joins the team but she's not the answer. Thankfully, Rebecca offers a little advice.
Because "Ted Lasso" is such a binge show, it takes the whole 12 episodes to understand what some of those odd early moments mean. The accents in Season Three seem thicker than they need to be and the absence of key players is felt.
To teach his players a lesson about their lot in life, Ted takes them into the sewer. That unleashes a, well, you get the picture, and gets Roy into fighting mode.
Ted holds back on the folksy sayings but he does get in a great one about himself (paging: Ned Flanders). When his son leaves at the beginning of the first episode, there's a real sense that families we create can't hold a candle to families we're born into.
Savor every episode as if it's the last and hope that it isn't. After all, "Ted Lasso" was the one who reminded us to believe.
"Ted Lasso" airs on AppleTV+ beginning March 15.