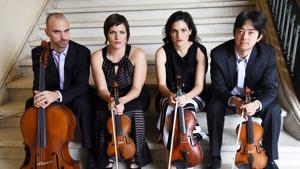 When you add up all the musicians, you get a baker's dozen, but when you map out a schedule of performances, each ensemble lands on the lineup for every concert. And just like a summer festival, they get to pair up in unique settings and bond over their shared interest in the music and the experience.
"It's kind of fun," said Freivogel, who shares the Jupiter spotlight with violinist big sister Meg, cellist brother-in-law Daniel McDonough and violinist Nelson Lee.
This is the Jupiter's first in-person Tucson festival appearance since 2017 when they premiered the Arizona Friends of Chamber Music commission of Pierre Jalbert's Piano Quintet.
They were part of the Friends' virtual festival in 2021, performing a recorded version of the world premiere of Stephen Andrew Taylor's "Chaconne/Labyrinth" for String Quartet. That piece is the cornerstone of their 2023 appearance when they perform it live for the first time on Sunday, March 19.
"I think the festival really stresses, particularly, finding new works," Freivogel said from Illinois, where she and the quartet are ensemble in residence at the University of Illinois Urbana-Champaign.
Her quartet also focuses some of its energy and resources to championing and commissioning new works with a little help from folks like Arizona Friends.
The Friends signed on to commission Taylor to write the "Chaconne/Labyrinth" for the Jupiter String Quartet, which is friends and university colleagues with Taylor.
Freivogel said Taylor has a wide range of interests, from science fiction to physics, that he draws from in his compositions.
"One day I was talking to him and he said he had just been reading my brother's physics papers for fun, and this is really esoteric stuff," she said with a laugh. "But also he likes to experiment with electronic music and with all kinds of different types of music."
Taylor composed "Chaconne/Labyrinth" during the pandemic, borrowing from Greek mythology and the elaborate labyrinth built to hold the mythical monster Minotaur.
In Taylor's pandemic version, the coronavirus is the Minotaur, Taylor wrote in program notes published on the University of Illinois website.
"He tried to map out what the COVID virus looked like in the music," Freivogel said. "It's a little bit abstract, but it's right at the heart of the piece. And then on either side we kind of work our way in through the maze and then back out to this more beautiful music at either end."
"It's a really difficult piece to play — for sure one of the hardest ones we've played — just because he writes such extreme things in terms of meter and tonality," she added.
Taylor adds microtones between the standard Western scale pitches and bends them one way or the other away from what we are used to hearing in Western music, Freivogel said.
"So it's a really haunting effect," she said. "I think people find it really interesting to listen to and quite moving in a really different type of way from your standard beautiful stuff."
The Taylor premiere is among a handful of more standard chamber fare that the Jupiter will perform throughout the festival, including string quartets by Brahms, Mozart and Schubert.
"We love to play Brahms. We love to play Schubert. We love to play Beethoven," she said. "We just want to have everything."