[ad_1]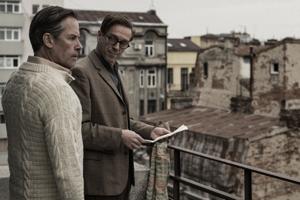 BRUCE R. MILLER

LOS ANGELES – How do you play a man who betrays his country?
The question weighed heavily on actor Guy Pearce who stars in "A Spy Among Friends," a new six-part series about Kim Philby, the most effective Soviet mole in British history.
"Through the process, I'm searching," Pearce says. "I'm lost in trying to just understand him."
To make informed decisions, the Emmy-winning actor read several books, then honed in on letters Philby had written to his wife. "There was something personal there, but I would always come back to the script and, finally, had to let the research material go."
While cyber espionage takes precedent today, much of the work in the 1960s was done in person, says Alexander Cary, who wrote the television script for "A Spy Among Friends." "Human intelligence is really the only way that you're going to get the definitive stuff," he says.
When word got out about Philby, officials sent his best friend, Nicholas Elliott, to interrogate him and, after four days in a safe house, Philby escaped.
"What the hell happened?" asks director Nick Murphy. In the limited series, Cary peels back several layers.
Damian Lewis, who plays the friend, says young men in the 1960s dabbled in communism at universities. "Communism in and of itself wasn't considered a bad thing because it was fighting fascism and that's why they got pulled in," he says. "A lot of them enjoyed the duplicity, the secrecy and the promise of an ever-increasing and smaller elite."
A caste system in Great Britain added fuel to the fire. People like Philby and Elliott "were sent to schools to believe that they were the ruling class, the future of the country," Cary says. "In that education and in that breeding…there was this trust that no one could possibly let this side down. So there was a certain type of snobbery and a certain type of elitism that people survived on."
Pearce says spies have always been intriguing, "but none of us have the courage to actually live in that world. But the idea of friends betraying friends and keeping secrets from very close friends is something we can all relate to."
In the series, Murphy shifts back in time to lend insight. Cary added a character – Lily Thomas – who's at the center of the investigation. "I knew the character would irritate and get under the skin of these gentlemen in the British intelligence world," Cary says.
Anna Maxwell Martin, who plays Thomas, is they audience's eyes and ears, discovering the world as they discover it. "It's very immediate," she says. "It's just about being with Damian in a room and the relationship that they have."
As the characters chip away at the betrayal, "they're just getting through the moments," Cary says. "The moments become very intense and specific to their relationships – one which is crumbling and one which is beginning to flourish. The show is a spy show, but it's a show about friendships and relationships."
While acting is often a part of the spy game, Pearce says he wouldn't get involved. "Look, I might make a good spy on the surface… I can work as an actor on the screen. But it's never a life or death situation. I don't know if I've got the chutzpah to act as well when I know that lives or countries are at stake."
Like most of those in the miniseries, Pearce had heard of Philby but didn't know about the others or the relationship he had with Elliott. "It was quite an eye-opening, educational process for me."
Lewis was similarly struck. "Everybody knows about Philby," he says. "But who knows about the best friend? He's the sap. He's the second guy. You get Tom Cruise or Guy Pearce to play the rock star. But Nicholas Elliott was the best friend who was duped."
And, says Pearce with a smile, "you get Damian Lewis to play the sap."
"That's why he was interesting to all of us," Lewis adds. "Who's this other guy? And why is this friendship interesting?"
"A Spy Among Friends" airs on MGM+
[ad_2]

Source link