[ad_1]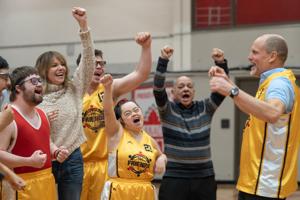 BRUCE R. MILLER

In the movie world, some hotshot coach/player/attorney is always forced to lead a ragtag rec league in order to earn his way back to respectability. Kevin Costner, Emilio Estevez and Luke Wilson have been there.
Now it's Woody Harrelson's turn.
In "Champions," he's the hotheaded coach of the Iowa Stallions, a minor-league basketball team, who's forced to do community service after hitting a police car. His assignment: coach a team of intellectually disabled athletes who would like to make it to the Special Olympics.
The talent, unfortunately, isn't there, so Harrelson has to start from scratch and teach them the basics. Meanwhile, a player's sister (Kaitlin Olson) happens to be a woman he hooked up with earlier in his downward spiral. Help or hindrance? It's a matter of perspective.
Her brother, Johnny (Kevin Iannucci, who's one of the film's standouts), is a real sparkplug and key to getting the team on track. With his help – and time — Harrelson's Marcus learns how to coach someone who isn't overpaid to be there.
Based on a Spanish–language original, "Champions" takes a retro, gentler approach to this sort of story, pushing the hothead in the background and promoting the "stars." It's a good move. Director Bobby Farrelly showcases each of the young actors' strengths and gets performances that are memorable, if not educational.
"Champions," in fact, is hardly in the same league as "Dumb and Dumber" or any of the other Farrelly comedies. It goes for the heart, not the jugular, and wins its laughs more honestly.
Harrelson is good at playing frustration and has the right partner in Olson to pull this off. When the two are transporting their athletes to a game, "Champions" could have been set anywhere in any sport. They lean into their athletes' world and discover a path that doesn't lead to shoe deals or Fox Sports contracts.
Although Iowa looks bleak (Winnipeg doubled for Des Moines), its cold landscape does have the ability to keep everyone focused. Harrelson uses his old "White Men Can't Jump" skills to prove he knows what he's talking about and does a last-minute swimming pool dive that suggests there's more action left in this 61-year-old than anyone thought.
While the original film was more complicated, it didn't let the Friends (as the team is known) stand out. Here, they're a casting call of opportunity, revealing just how good they are at delivering the punchline to a joke. In addition to Iannucci, Madison Tevlin shoots and scores as the tough-talking Consentino.
A soft comedy, "Champions" may not move the needle in any significant way, but it shows there are often many games at play, no matter what the sport.
[ad_2]

Source link