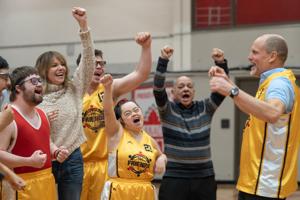 BRUCE R. MILLER

Woody Harrelson can run. And jump. And coach basketball.
But what he's really good at, says director Bobby Farrelly, is "doing something under pressure."
In "Champions," a new comedy in which Harrelson plays the coach of a Special Olympics team, he had to keep the interest of extras in several scenes. "We'd have hundreds of people in the stands and we'd say something like, 'Does anyone think he can he can hit this shot?' And he'd make it. He's that guy who comes through in the clutch."
Friends for years, Harrelson encouraged Farrelly to direct "Champions" because he loved the Spanish version, "Campeones," upon which it was based. "When I saw his passion and read the script, it was just the right thing to do."
Among his first duties: assembling a team of athletes who could act.
"We had an open casting call all over the country and all over Canada," Farrelly says. "We wanted to have people who played at some kind of Special Olympics (event) or directly for disabled athletes. Hundreds and hundreds of people sent us their videos. We found these 10 that we ended up casting. We got the right 10 because there isn't a one of them who didn't nail it."
To make sure the roles fit, writer Mark Rizzo tweaked the characters so they were more like the actors playing them. "It was much easier for them to do and that was a big help to us."
Kevin Iannucci, who plays Kaitlin Olson's brother, "never skipped a beat. By actor standards, he hadn't done too much but he held his own in every single scene we put him in."
Harrelson, meanwhile, had such rapport with the disabled athletes, he'd re-run a scene if they made a mistake. "He was doing a lot of the work that I would have had to do (as director). They loved Woody and listened to him. He's a remarkable athlete for his age."
In the film, the 61-year-old Harrelson's character has been dropped as coach of a minor league basketball team and assigned to helm a rec league. He resists, discovers there's no real alternative and tries to figure out how he can turn his team, called the Friends, into winners.
Set in Des Moines, Iowa (though filmed in Winnipeg, Manitoba), "Champions" was shot in freezing weather. The reason? Rizzo wanted it to feel like it was set in middle America. "He didn't want it to be in L.A. or New York or one of the coastal cities," Farrelly says. "So he picked Des Moines."
"Campeones" was more exaggerated. "They took the liberty – as we do in our other movies – where it's just a little bit broader, a little bit zanier and funnier, if you go that way," Farrelly explains. "But it's more real if you believe these are people you might meet."
In Farrelly's other comedies – "There's Something About Mary," "Dumb and Dumber To" and "Me, Myself and Irene" – broad humor is key.
Today, "I don't think we could make 'There's Something About Mary,'" he says. "The whole world has changed and it's a little harder to joke about a lot of things. Hopefully this will find its audience. But I think comedies will come back. It's kind of a cyclical thing. Society just went through a phase where it became more serious, but people love to laugh."
Farrelly, who has collaborated several times with his Oscar-winning brother Peter, found working alone a bit daunting. "You've got to make a lot of decisions on your own. (Working together) gives you certainty and strength and confidence. If we're both on the same page it's like, 'OK, we got it. Let's do it. Let's move on.'"
Peter Farrelly was working on a different film when Harrelson made his pitch. Now, Bobby Farrelly is eager to see how "Champions" performs. "I loved working with the cast," he says. "It was so enjoyable I would work with them again in a minute."