Arizona Opera has never staged the timeless musical "The Sound of Music."
But this weekend, the hills will come alive with the sound of the Rogers and Hammerstein classic when Arizona Opera mounts the production at the Linda Ronstadt Music Hall on Saturday, March 11, and Sunday, March 12.
The production features the husband and wife team of soprano Cadie J. Bryan and baritone Jonathan Bryan in the lead roles of Maria Rainer and Captain Von Trapp.
"The Sound of Music" tells the story of the Trapp family singers, one of the world's best-known concert groups in the pre-World War II era, and their daring escape from Nazi-controlled Austria in 1938. The story is based on Maria's 1949 memoir "The Story of the Trapp Family Singers," which inspired the West German film in 1956 and Rogers and Hammerstein's Broadway musical in 1959; it was the pair's final musical.
The story: Maria takes a job as governess to widowed naval commander Georg von Trapp's seven children. She falls in love with the children and agrees to marry Georg, with whom she eventually falls in love.
The family starts singing in the mid-1930s and quickly becomes a popular touring group. But on the eve of Anschluss in 1938, when Germany annexed Austria, Georg is ordered to serve in the German navy. He and Maria decide they have to flee the country with their children.
The music: "The Sound of Music" is rich with popular songs that have become cornerstones in the Great American Song Book including "Edelweiss," "My Favorite Things," "Climb Ev'ry Mountain," "Do-Re-Mi" and the title song, "The Sound of Music."
The married couple: Cadie and Jonathan Bryan, who have been married two years, see a bit of themselves in their roles of Captain and Maria.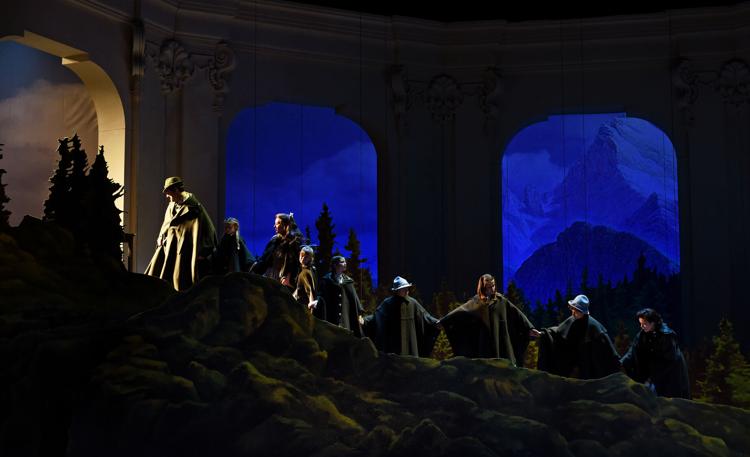 "We respect each other as people and as artists, and I think that's one of the foundational qualities of the Captain's and Maria's relationship," Cadie said in a recent Arizona Opera "Behind the Scenes" interview with the company's President and General Director Joseph Specter.
"Usually, when playing a romantic role, I have to focus on how I'm going to pretend to love my counterpart in front of the audience," Jonathan told Specter. "In this case, I'm more concerned with how I'm going to pull off pretending I haven't fallen in love with her yet for half of the show."
"My Favorite Things" from "The Sound of Music" was the first song Cadie remembers singing in front of an audience during a kindergarten Christmas program.
"I've always loved that song, and eventually, I fell in love with every other song and grew old enough to appreciate the musical as a whole," she said. "I think most people smile at the thought of it, whether it's for the amazing music, the beautiful Austrian landscapes, the human ideals, or all of the above. In a way, I don't feel like I'm playing just Maria. I'm playing 'The Sound of Music'. It's larger than me, and it carries a lot of weight for me. I just want to do it the justice it deserves."