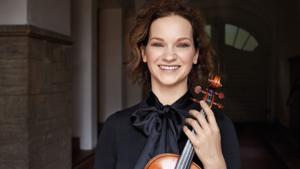 In the classical music world, there are long-awaited, much-anticipated encores.
Nearly 16 years to the day that she played her one and only Tucson Symphony Orchestra concert in 2007, she will return for the follow-up on Wednesday, March 22.
"It's been awhile," she conceded during a phone call from her Cambridge, Massachusetts, home earlier this month, then joked: "At least I'm doing a different piece!"
In the years since we saw her last, the internationally acclaimed Hahn, one of the most important violinists of her generation, has won three Grammys, had two kids and performed countless world premieres.
Tucson is one of several cities that Hahn, 43, is finally circling back to, she said, and at many of them she will perform works by Bach.
"I play Tchaikovsky as much as I can. I play the Bach concerto as much as I can," she said. "There are certain pieces this season where if there's an opportunity to play them, I play them."
Her relationship with the Tchaikovsky, the only concerto he ever wrote for the violin and one of the most popular concertos in the genre, goes back to her student days.
"It's one of those pieces you grow up hearing as a student and you aspire to," she said.
Hahn had originally played the mid-20th century interpretation of the piece that was popular back then, but after taking a prolonged break from the piece, she came back to it years later and learned the complete original version.
"It's not terribly different. It just has some extra repetitions and certain passages and it develops certain ideas a little differently," explained Hahn, who is the artist in residence for the Chicago Symphony Orchestra and has a visiting lecturer role at Yale. "Now I have a flow with the piece … . It's a virtuoso piece, but for me it's more about the expression of the work and the flow of the work. It keeps the the entire arc in mind. That's what it's more about for me than about the individual melodies we know. Those are always going to be in there. It's more about the whole arc than the individual moments or the flashy things."
In addition to the Tchaikovsky, the orchestra, under the baton of Conductor José Luis Gomez, also will perform Grieg's "Peer Gynt" Suite No. 1 and Tchaikovsky's "Swan Lake" Suite. The concert begins at 7:30 p.m. Wednesday at the Linda Ronstadt Music Hall, 260 S. Church Ave. Tickets are $49-$129 through tucsonsymphony.org.