[ad_1]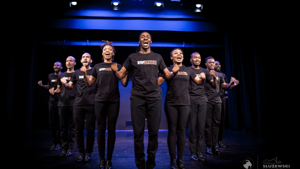 A.J. Castillo
For the Arizona Daily Star

When the sixth annual "Our Blackness, Our Heritage" True Colors step show hits the stage in Tucson on March 4, organizers hope it does more than make people want to get out of their seats.
"This is an opportunity to bring our community together," said Beah Williams, one of the organizers and daughter of the founder of Tucson's Barbea Williams Performing Company. "We began this to celebrate during Black History Month to have a chance to bring our community together. There wasn't a lot going on throughout the Black community in Tucson when it comes to Black History Month. We have MLK festivals, Juneteenth festivals, but everybody does their separate things in the school districts and their own organizations."
Step is a form of dance that originated in South Africa through boot dance. Miners in South Africa would create music in the diamond mines as a way to keep energy up. It has evolved to what step is today.
This year's event will feature the Barbea Williams Performing Company showcasing alongside Step Afrika!, a top dance company out of Washington D.C. and one of the largest African American dance companies in the United States.
Founder Barbea Williams is a professor at the University of Arizona. Her performance company was created around 1975 and has since become one of Tucson's premier dance companies, bringing West African culture, dance and drumming to the stage.
In addition to being a community builder, the step show is also a tribute to the history of the Divine Nine, historical black fraternities and sororities that were created starting in 1906. Every organization uses their own type of stepping routines and movements.
"When it (step) got over here in the Americas, a lot of times the fraternities and sororities saw that rich history and started to work from the boot dance into stepping. They also used it percussion-wise with using
handbone. It's a creation of making sound with your feet, hands, clapping, yelling, using tools like whistles sometimes, but it's more so using body motions and movements," Beah Williams said.
The event has been sponsored by Pima Community College for the last three years. The Gold Corporate Sponsor for the last five years is the UA Africana Studies Department.
Beyond entertainment, the showcase will also have Ken's Hardwood Barbeque food truck, as well as Black business vendors and info booths on site.
The step show will be March 4 from 3 to 6:30 p.m. at Cholla High School, 2001 W. Starr Pass Blvd. Tickets are $10 through tucne.ws/1mp2.
To learn more about the Barbea Williams Performing Company, visit bwpcarizona.com.
[ad_2]

Source link