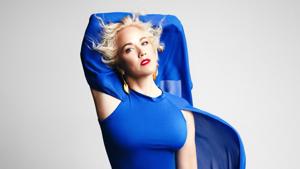 After a music career that has spanned more than 20 years, Tucson singer-songwriter Katie Haverly is releasing arguably her most creatively daring album to date.
"There are really big orchestral moments. There are quiet moments. I think we've made some bolder production choices on this album," Haverly said of "Triangulating Line," which came out on Wednesday, March 1. "It's bigger, louder, more complex."
Haverly will perform a pair of intimate CD release concerts this weekend at Saint Cecilia Studios, where she recorded the album with producer Steven Lee Tracy.
"Triangulating Line" is the third album she's done with Tracy, and Haverly said the pair has "really developed a creative conversation together." The album takes Haverly to the next level of her artistic evolution, this one seeped in harder rock and pop edges, with flashes of jazz to go with the alternative folk-rock that has largely defined her music.
"We really kind of took things further," she said, including adding more "aggressive rock guitar and really using strings in an interesting way."
"A big thing that I always like to do is really some complex vocal harmonies," she added. "But there are a lot of moments on this album where I'm singing with everything I've got in ways that I might have not done on other projects."
Haverly said she began writing the album in the early days of the pandemic, developing a thematic thread centered on triangulating lines between loving and loathing one's self to work together to solve society's biggest issues.
"It's a lifelong process to really accept ourselves. If we don't bring our full spectrum of gifts and strengths and skills, if we are always suppressing what comes naturally and what we are gifted because of other forces around us telling us we are not strong enough … We can't come together to solve problems."
Haverly put out an animated video for the title song last week that builds on the album's theme.
"Triangulating Line" was released on CD and vinyl — a first for Haverly. Anyone attending this weekend's intimate shows will get a vinyl copy with their $45 ticket price, which also includes food and cocktails prepared by Haverly's musical and life partner Ben Nisbet.
Haverly will perform solo with a guitar and piano and will have guest vocalists to support her on duos and trios. She also is asking guests to wear royal blue — the same color she is wearing on the album cover — to create a special shared environment that she hopes will elevate the experience.
"I'm trying to create a new performance experience in Tucson," she said. "I have spent so much time in that studio. It is one of my favorite spaces on earth. I have such wonderful memories of what I have created there."
The doors open at 6:30 p.m. and the show will start around 7 on Friday, March 3, and Saturday, March 4, at Saint Cecilia Studios, 232 S. Tucson Blvd. For tickets, visit katiehaverly.com.
Before this weekend's events, Haverly will join up-and-coming Tucson band Holy Faint for a listening party from 5:30 to 7 p.m. Thursday, March 2, at Wooden Tooth Records, 108 E. Congress St. Holy Faint also recorded with Tracy at Saint Cecilia Studios.