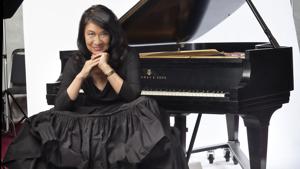 Paula Fan, who spent 31 years as the principal pianist with the Tucson Symphony Orchestra and 40 years teaching piano at the University of Arizona, died on Thursday, Feb. 23, after suffering a heart attack in Australia. She was 71 years old.
Fan had flown from Tucson to Australia on Tuesday, Feb. 21, to accompany Welsh baritone Jeremy Huw Williams on his recital tour. Her brother, Michael Fan, said Fan had reportedly complained of feeling ill before being stricken. She was taken to a local hospital where she died, he said.
News of her death spread on social media last Friday and by early this week, longtime colleagues and friends said they were still in shock.
"We had all these incredible times. I was just so inspired by this incredible woman," said former TSO concertmaster Steven Moeckel, who collaborated with Fan for 20 years including making three recordings together. "I got a message from a friend in the TSO Friday and I didn't even believe it at first. It was quite surreal. She became such an integral part of my life. We did so many things together."
"Paula was one of the rare examples of a person who could simultaneously project experience and wisdom and tenure while still also projecting being a very young and vibrant type of person," said former TSO violinist Benjamin Nisbet. "She was so elegant and so classy, but also very, very fun and very jovial and light. I think that that says a lot about her as a person; she could instantly command respect from the people around her while also being fun and a very cool person to work with."
Fan was a fixture not only in Tucson but on stages around the world, accompanying vocalists and instrumental soloists on five continents. She had been accompanying Williams, whom she met when he was a guest artist at the UA, for 10 years including a collaboration at the UA Music + Festival last October.
Michael Fan said his sister knew early on that she wanted to be an accompanist; when she was in grade school, she played piano for a production of a Gilbert and Sullivan work at the University of Chicago, where their father taught.
"She was never interested in being a soloist," said her brother, who has played violin with the TSO since 1978.
Paula Fan was born on Feb. 2, 1952, in Chicago and spent her teen years in Tucson when her father landed a teaching job at the UA Physics Department in 1967. She graduated from Catalina High School and went on to earn her bachelor's degree from the UA before pursuing master and doctorate degrees in collaborative piano from the University of Southern California.
At USC, Fan studied with pioneering piano accompanists including Gwendolyn Koldofsky, who founded USC's department of keyboard collaborative arts and its degree program — the first of its kind in the world. Fan also studied under Brooks Smith, who accompanied and recorded with famed violinist Jascha Heifetz.
She returned to Tucson and joined the UA School of Music faculty in 1976, where she met John Denman, the celebrated English clarinetist who taught at the UA from 1976-'84 and also was the principal clarinetist for the TSO. The couple married in 1982 and spent nearly 30 years performing and recording together all over the world. Denman died in 2001.
"She realized that she shone the most when she was somewhat in the background playing the supportive role," her former UA Fred Fox School of Music colleague Daniel Asia recalled. "She loved being in that role."
Fan also was passionate about animals and conserving wildlife, spending her summer breaks traveling all over the world with Earthwatch to work with researchers on efforts to save endangered species.
"Last summer it was Mongolia (Argali sheep, Mongolian hamsters and Daurian Hedgehogs) and the previous year, Madagascar and its largest predator, the fosa," Fan said in a 2012 Q&A posted on the TSO website.
She also loved cats — at one time she had as many as 24, but her brother said she had only eight at the time of her death — and was a passionate foodie.
"Paula started every conversation with, 'Have you eaten anything interesting lately?' We really never talked about music; we always talked about food," said Nisbet, who recalled going to a dim sum restaurant with her and listening as Fan scolded the server in perfect Mandarin for offering her group shark fin soup. Fan objected to the way shark were killed for their fins, Nisbet said.
"We are still just in awe of who this person was," Moeckel said. "She was just living every single moment. Everything she did in a way benefitted others. She didn't feel like she had to do things because she was supposed to. She was so much at peace with who she was and what she was doing and the people in her life and the animals in her life."
In addition to her brother and his wife, Melanie Olsen Fan, Fan is survived by two nephews and a grand-nephew. Services are pending.