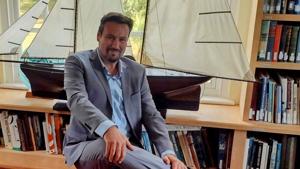 The last thing Sergei Rachmaninoff composed before leaving his native Russia at the end of 1917 was a set of nine short piano pieces dubbed "9 Etudes-Tableaux," Op. 39.
It was a follow up to his 1911 Op. 33 set of eight etudes, short piano works that Rachmaninoff intended as "picture pieces" meant to evoke some sort of visual stimuli.
Of course, he never let on his own visual inspiration for the etudes, saying at one point that it was up to the listener to decide what they see when they hear the music.
The concert, part of Dove of Peace's free concert series, will pair poems that amplify the musical tone of each etude. In the charming Etude 4, for example, Cook will recite an excerpt from Russian poet Boris Leonidovich Pasternak's fanciful "Fairy Tale." He pairs the urgency of Alexander Sergeyevich Pushkin's "The Snowslide" with the frenzied mood of the F-minor No. 3.
Sunday's concert, which begins at 2 p.m. at Dove of Peace, 665 W. Roller Coaster Road, also includes Debussy's 1907 "Images," Book II, part of a suite of six solo piano works that he told his publisher "will find their place in the literature of the piano … to the left of Schumann, or to the right of Chopin."
Admission to the concert is free, but donations will be accepted to benefit Old Pueblo Community Services, which offers housing, counseling and support services for the homeless.
Those attending are required to wear face masks.