[ad_1]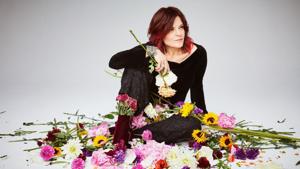 In her Twitter tag, four-time Grammy-winning Americana/country singer Rosanne Cash describes herself as "Writer, rhymer. Plays well with others."
It's that latter trait that serves her especially well when she and her five-time Grammy-winning songwriter/producer husband John Leventhal share the stage.
"We love doing the show," she said in an early March phone call to talk about the pair's show on Friday, March 24, at Fox Tucson Theatre. "We just built up this thing over the years that just feels so good. It's an unspoken language in a way. We really play well together."
Friday's concert is the pair's first in Tucson since the pandemic. The show, part of the Fox's "Listening Room Series" of singer-songwriter concerts, fits perfectly with what the couple likes to do on stage: Sing songs and tell stories.
"It's intimate, but yet it still has energy. It's fun," said Cash, who has recorded 14 studio albums of country, pop and folk music over her 45-year career.
Her show with Leventhal, who she married in 1995 and with whom she has a son, crisscrosses her career, from those early hits like "Seven Year Ache," "I Don't Know Why You Don't Want Me," and "Never Be You" to songs from her later albums "The List" and "The River & the Thread."
"People don't have to worry; it's not a six-hour show," she joked, "but we do have a lot of material."
She and Leventhal also might sneak in a cover of Doc Watson's "I Am A Pilgrim," the cover song of a tribute album celebrating Watson's 100th birthday. The album, which features Dolly Parton, Steve Earle, Jerry Douglas, Nora Brown and several others singing Watson's most popular songs, will be released April 28.
"Doc is seminal; he is prototypical and an enormous influence," Cash said of the late bluegrass singer-songwriter, who would have turned 100 on March 3.
When she was a teen, Watson played two shows a night for seven nights at Nashville's historic Exit/In, "and I went to every show," she recalled.
"I had the opportunity to play with him one time at Merle Fest," the music festival Watson started in 1988 in memory of his son, Eddy Merle Watson, said Cash, 67. "I don't ever remember not knowing ('I Am A Pilgrim'); it's hardwired."
Friday's concert begins at 7:30 p.m. at the Fox, 17 W. Congress St. Tickets are $20-$72.50 through foxtucson.com.


[ad_2]

Source link