[ad_1]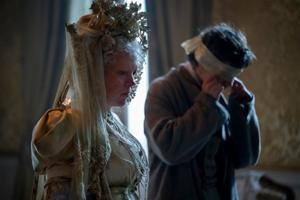 BRUCE R. MILLER

Olivia Colman wanted to be an actress when she was a teenager but thought she had to be from a certain class to be able to pursue the career.
"Then I met people who were just different from the people I'd grown up with who said, 'No, you can work hard and aim for something and go for it,'" she says. "And I went, 'Oh.'"
Colman's parents were terrified and thought she should become a secretary – "something sensible."
"I was a terrible secretary but I did that for a long time just trying to keep my head above water. I was a terrible waitress…and I'm sort of grateful I couldn't do anything else because I had nothing to fall back on. I had to keep plugging at it and, now, I couldn't be happier."
With an Oscar, two Emmys and three Golden Globes to her credit, the 49-year-old actress has more than found her niche. In 2021, she starred in five films. In 2022, four. And now, in 2023, she's the calling card for a new adaptation of "Great Expectations." In the miniseries, she's the bitter Miss Havisham, determined to match her adopted daughter Estella with a young orphan, Pip.
The role, Coleman says during a Zoom interview, was too delicious to ignore. "It came on the back of a long run of work, so I was a bit, 'I really need a break,' but I couldn't say no. I had never read 'Great Expectations.' But I'd seen adaptations on the telly. I thought, 'She sounds great. I'd love to get my teeth in her.'"
The bait was Steven Knight's script. It hewed closer to Charles Dickens' original and made a point of emphasizing class distinctions. "In our society at the moment, things are getting pretty tough and things were tough for Pip, so I think it is very relevant," he says.
Colman had seen Gillian Anderson's version and worried that she might be compared to her. "She's amazing… but what's beautiful about this is it's a situation someone is put in, not their being."
To find her way into Miss Havisham, Colman talked with the miniseries' costume designer who said she saw the character as "rotting from the inside."
"I thought, 'Oh my god, that's it! That's great,'" Colman says. "The costume looks like mold is growing up it and you can see her heart is rotting. I love that. Hair and makeup bleached my eyebrows and I looked bonkers for weeks but it was worth it in the long run. I've always said, 'Good hair, makeup and costume – that's three-quarters of your job already done before you leave the van.'"
In the 20 years that she has been working, Colman has played Queen Elizabeth II in "The Crown," Anne in "The Favourite" (for which she won the Oscar), the biting godmother in "Fleabag," a detective in "Broadchurch" and, most recently, a duty manager at a movie theater in "Empire of Light."
Class distinctions have figured into many of the films and television series she has appeared in. "I still struggle with the fact that it depends on where you're born as to how people will see you," Colman says. "I think that's rubbish. It's still very much a case for many people. That still resonates for me and it's still frustrating."
While making "Great Expectations," Colman says she warmed to working with younger actors. "That's what I love about acting…you can work with anyone – from a baby to someone in their 90s. It's a joy and you learn from each person. I hope I never get bored with that."
Miss Havisham might not have been so charitable. Summoning her best Dickens approach, Colman jokingly says, "They're flouncing their youth all over the place. It's infuriating."
While she might have been able to offer a bit of career advice, the actress was too busy laughing and having fun with her fellow castmates. "Maybe I'm naïve," she says, "But I like to think after the first minute of meeting each other we all feel we're the same age." She pauses. "Don't tell me that's not true. Just lie."
"Great Expectations" airs March 26 on Hulu. 
[ad_2]

Source link