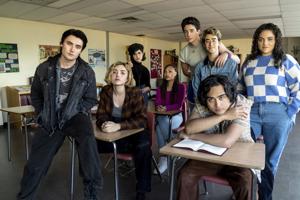 BRUCE R. MILLER

LOS ANGELES – During a scene in the new series, "School Spirits," actors had to walk through a basketball game without flinching.
"That was difficult," says Nick Pugliese.
Milo Manheim had to execute intricate dance moves in another and no one was allowed to watch him. "It was like I was as free as if you're singing in the shower," he says. "You just have to let go and act as if there's nobody there because they can't see you."
The reason? Pugliese and Manheim play ghosts.
They're from different generations trying to help a high school senior (played by Peyton List) discover who murdered her. "She wakes up dead and only has shards of memory from her last day on earth," says Executive Producer Oliver Goldstick. "And it looks like she was murdered."
In the course of the first season, those other ghosts help her navigate the new world and find the person responsible. Goldstick calls it a mashup of "John Hughes and teen noir."
Based on a graphic novel by Nate and Megan Trinrud, "School Spirits" lets ghosts from different eras weigh in. Manheim plays a jock from the 1980s. Pugliese plays a student from the 1990s.
Both did research into the eras and discovered what they wouldn't have known. "Life has continued in the real world, but he hasn't necessarily," Manheim says. "I tried to have like a bounce in my walk, like I came from the '80s. It was really fun to explore."
Maddie – List's character – is shut off from the world around her and has to surrender. "All these people in this afterlife support group end up helping her on her journey," Goldstick says. "And people start to open up. It's important to know that they all know how they died. They remember their last moments on earth. She doesn't."
Pugliese says every character is haunted by something. "There's an opportunity to investigate that."
Characters go back to the 1960s but deaths aren't related to school shootings or suicide, Goldstick says. "Sometimes when you take on something of such import, it will hijack the show."
"We wanted to focus on emotional mysteries – the kinds of things that haunt individuals rather than society," Pugliese says. "In a lot of ways, it really is about each of these people and what they're going through in the space rather than hot-topic issues."
The Trinruds, who are writers on the show, started the concept as a graphic novel but "because of the amount of time that it really takes to illustrate, it'll actually come out this fall after the show will premiere," says Nate Trinrud.
Some of the Maddie mystery will be solved in the first season. "There's enough of a cliffhanger that it will absolutely have viewers saying, 'How long do I have to wait for this?'" Goldstick says.
For List, it's an opportunity to play a character much different than the one she had in "Cobra Kai."
"Kai's" Tory, she says, " was such a lover. Maddie is very closed off. She doesn't share a lot or let a lot of people in. That's why death is so interesting…she's forced to let people in."
"School Spirits" started when the Trinruds were a few years older than Maddie. "We had a pretty hard experience with our family, relating to one of our parent's alcoholism, and our lives changed," Nate Trinrud explains. "We sort of lost everything as a family and so, at a really low point of our life, we turned to YA (young adult) programming to kind of cheer us up. It led to a conversation where we realized we wanted to do this and make our own version of a 'coming-back-to-life' story: When you're at the bottom of a well, how do you find the spirt and the will to get yourself out of it?"
Writing the story, Megan Trinrud says, helped. "We're best friends. We're also creatively aligned in a lot of ways. So much of what we wanted to share was this feeling of community – finding someone you can confide in and work closely with who helps you find your way. You don't always have to do it alone."
"School Spirits" airs March 9 on Paramount+.