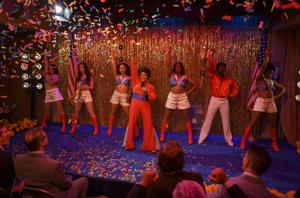 BRUCE R. MILLER

When Hulu announced it was doing a sequel to Mel Brooks' "History of the World Part I," executive producer Nick Kroll got calls from countless comedians.
"I got a text from Johnny Knoxville five minutes after the announcement was made," Kroll says. "'Anything I can do. Mel Brooks is my hero.'"
The sentiment was echoed by others – Sarah Silverman, Ike Barinholtz, Wanda Sykes.
"It begins with Mel," Kroll explains. "People are excited to work with Mel Brooks in any way they can. And, then, from there, we started to put it together."
Like the original film, Kroll's Hulu series features a company of players. "That's how comedy is built," he explains. "It's so important to build community, to build the people who you continue to work with."
From there, Barinholtz, Kroll and Sykes reached out to friends. For the "Part II" sketches, they landed on a Shirley Chisholm sitcom, a "Fiddler on the Roof"-like parody of the Russian revolution, a Jesus musical and a Civil War spoof.
Tying them all together? Narration by Brooks, who was eager to be a part of the series.
"He's just unstoppable," Kroll says. "He's got such an incredible life force. He was in every pitch." At those meetings, Brooks arrived in a blue blazer, crisp white shirt, kerchief, "ready to go."
When the call went out, Kroll and company got participation from Danny DeVito, Zazie Beetz, Quinta Brunson, Pamela Adlon, Jack Black and many others.
While there are areas where others wouldn't tread, "History Part II" goes there. "I personally think right now in comedy you can still say and do insane things," Kroll says. "You just have to be a little more thoughtful about how and why you're saying them."
Like the original, "Part II" targets people who support intolerance or use their power against others.
"It's going after the rich and powerful and trying to find humorous ways to take them down," Kroll says. "Comedy and satire are very powerful that way."
While Kroll's admiration for Brooks goes back to his childhood, he didn't meet him until an Emmy party. He said he wanted to talk with him. "Me and John (Mulaney, his 'Oh, Hello' costar) had a meeting and he gave us boxes of Raisinets on our way out. And it was the greatest day of my life."
When writers started tossing out ideas, Brooks was there with contributions. "I got jokes," Kroll remembers him saying. The Civil War skits have a healthy dose of Brooks' humor.
"He's 96 and his comedy mind is still so sharp," Kroll says. "I had the privilege and deep fear of directing Mel doing the voiceover. There's nothing better than hearing Mel Brooks say, 'Oh, good idea.' There's nothing more crushing than pitching Mel a joke and being like, 'No, I'm not saying that. That's bad.' But just the idea that Mel Brooks directly telling you that your idea sucks is one of the great privileges of my life."
"History of the World Part II" begins March 6 on Hulu.