[ad_1]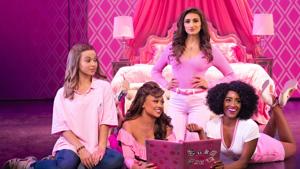 There's always that small clique of rich girls who have it all and won't let anyone forget they have it all.
Along the way, that clique shows off their claws and if you aren't "in," they make sure to keep you far "out."
It's the coming-of-age story of newbie Cady Heron (English Bernhardt) who just moved home to Illinois after spending 12 years in Africa with her zoological research scientist parents. For the first time, Cady, who was homeschooled in Africa, gets to experience American public school.
She is warned on her first day at North Shore High School to avoid the "Plastics," a trio of snooty, self-obsessed yet insecure frenemies who spend their energy fighting to be Queen Bee or to please the Queen Bee. On her second day in school, Cady is invited to the Plastics table and soon joins the clique.
After being burned by the presumptive Queen Bee Regina George (Nadina Hassan), Cady plots to take her down and claim her crown. But when the power of her newfound position goes to her head, Cady finds herself treating her friends just as cruelly as the Plastics treat everyone outside their circle.
Spoiler alert: She rediscovers her soul, sheds her selfish ways and returns to sweet, caring, fun-loving Cady.
Fey wrote the screenplay for the 2004 movie starring Lindsay Lohan based in part on Rosalind Wiseman's 2002 book "Queen Bees and Wannabes." The musical, with the book by Fey, music by Jeff Richmond and lyrics by Nell Benjamin, ran 833 times on Broadway after opening in 2018.
The national tour hit the road in fall 2019 and has garnered rave reviews, many of them including the word "hilarious." Chicago Tribune called it "by far the funniest musical of the year" while USA Today, stealing a line from the movie/musical, teased, "'We'll let you in on a little secret, because we're such good friends': GET YOUR TICKETS NOW!"
Showtimes for "Mean Girls" at Centennial Hall, 1020 E. University Blvd., on the University of Arizona campus are: 7:30 p.m. Tuesday, March 28-Thursday, March 30; 8 p.m. Friday, March 31; 2 and 8 p.m. April 1; 1 and 6:30 p.m. April 2. Tickets are $30-$145 through broadwayintucson.com.


[ad_2]

Source link