A new locally Latina-owned boutique franchise is coming to Tucson April 4. Apricot Lane Boutique began as an idea between sisters.
Edna Mendoza, 59, and Denise Lopez, 52, always talked about one day starting a business together. They brainstormed ideas, throwing them out once they realized it had already been done. For the past five years they passed ideas back and forth. 
It was only once Mendoza retired from her job in January that she became serious about the idea of starting a business with her sister. 
"She called me and asked 'are you ready?' " Lopez said. "And I said, 'well, let's go.' " 
They began looking for a business to start and eventually landed on Apricot Lane Boutique, a national franchise for women's clothes and accessories. The franchise sells modern women clothing, accessories and shoes — though Lopez says the shoes will come later, depending on how it goes. 
Although Apricot Lane Boutique is a national franchise, what makes these stores special is that they are started and owned locally, giving each owner the chance to make it their own. The brand has over 100 locations nationwide but this will be the first location in Tucson, at 5350 E. Broadway. 
According to Apricot Lane website, at its core, the boutique is a "business that empowers women everywhere to work for themselves." 
The franchise offers its owners a team of retail experts, resources, training videos, virtual classrooms, webinars, coaching, in-store training and more, the website says. 
"The good thing about working with a franchise is that we have had a lot of support in that factor," Mendoza said. "We have weekly calls with a team and we make decisions as a team."
A good combination
Both Mendoza and Lopez were born and raised in Nogales, Arizona, and moved to Tucson to pursue their studies. 
Lopez met her husband and shortly after moved to Tubac to start their family. She works helping out her husband's family business, "Big Chuy's", started by her father-in-law and raises her three children. Two to three times a week she makes the nearly hour drive into town to work at the boutique but she loves Tucson.
"It doesn't seem far to me at all," Lopez said. 
She met her husband in Tucson and has been living here for over 30 years. 
Although being small business owners is new to the sisters, they have skills that have transferred over into their new endeavors. 
"My sister has always been the fashionista, so she has that gift, that expertise," Mendoza said. "And personally, I have experience with projects, having employees, guiding different employees, and more organizational stuff." 
"It's a very good combination because we both complement each other very well," Lopez said. "We make a good team." 
Opening the boutique for them is for more than monetary gain. They hope to give back to the community once they are up and running and are already looking into some local organizations to partner with. 
"This franchise really caught our attention because not only does it focus on the business aspect, but they also support giving back to our community," Mendoza said.
A family connection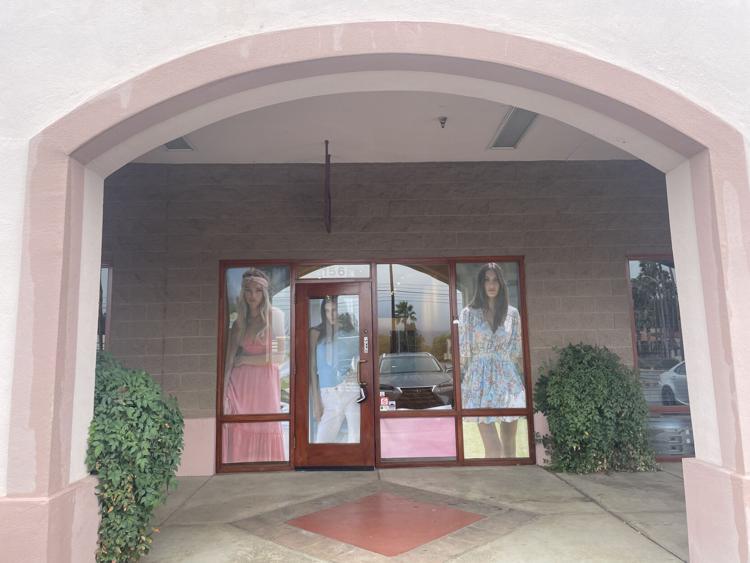 They perused many of Tucson's available retail spaces and eventually decided on an open space at the Plaza at William's Center, near Broadway and Craycroft Road. The soon-to-be boutique is tucked in between a Men's Warehouse and Robert Markley Salon. Before, it was D & R Art Gallery and Studio. 
They also have a special connection to the area, with their grandparents having lived just 3 miles from the plaza. 
"We were always close to this area, we spent a lot of time here in the summers," Mendoza said. "I am very proud to have business close to where, in reality, was the roots for us." 
The store, still in its pre-opening stage, is empty from wall to wall with only the smell of fresh paint as proof that something new is coming to this location. There is still much to do. They need to buy the racks and shelves the clothes will go on, organize the furniture in the store and the final step will be to purchase all the merchandise. The pair said they are looking for 2-3 employees to hire as well. 
For now, they have weekly meetings with an Apricot Lane Boutique team that have helped with the process of opening a new location. Mendoza said that figuring out some of the intricacies of opening a business, such as procedures of loans and licenses, was hard at first, but that the team has really supported them through the whole thing. 
In addition, they have been learning how to navigate the digital landscape and have an Instagram account and a Facebook page to reach more people before the opening of the store in the spring. 
"We haven't really had any problems," Mendoza said. "Aside from the apprenticeship, which is something new for us."