[ad_1]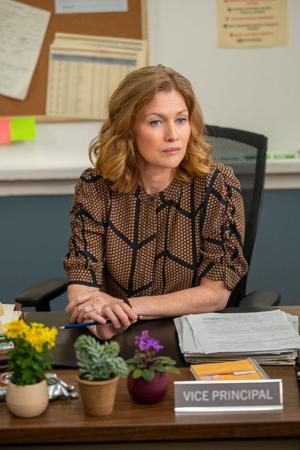 BRUCE R. MILLER

LOS ANGELES – Before he finished the final season of "Better Call Saul," Bob Odenkirk got a script for a new series about a college English professor.
Based on Richard Russo's novel, "Straight Man," it was relatable, funny and different. Odenkirk, however, hadn't quite recovered from a heart attack and was pushing just to finish "Saul."
"It was hard. It was really hard," the Emmy nominee admits. "After about eight hours of shooting, I'd get tired and then the season ended."
Hoping to buy time before he embarked on something new, he started growing a beard. "If the beard grew in slower, that would have bought me a week or two," he says. "But it did happen very fast after 'Saul.' They had a pilot script…and I was struck by the undertone of warmth and familiarity among the faculty."
Called "Lucky Hank," the new series follows the chair of the English department at Railton College. He faces unsupportive peers, demanding students and a home life that has its own tensions. In the opening episode, he faces losing his title because a student takes exception to his criticism.
Not unlike Sandra Oh's "The Chair," "Lucky Hank" pulls back the curtain and shows just how much the academic world is like any other business. Produced by Paul Lieberstein, one of the writer/producers behind "The Office," it was a way to stay in the workplace but do it "with smarter people. I love this idea about tenure, where you are trapped in success," Lieberstein says. "You can't leave that job, so it just allows people to behave very badly in a semi-protected way."
For Odenkirk, "Lucky Hank" was a way to stretch as an actor.
"While I had been in front of the camera a lot in my career, it really was performing and not acting," he says. "I was never a struggling actor. I was a struggling writer. Even years where I was just developing shows and they weren't going anywhere, I did act. I performed – not acted – until I got 'Breaking Bad.' Then I had to learn how to act. Quickly. And it was really, really tough."
Because "Breaking Bad" encouraged its actors to lose themselves in situations and dig deeply into the characters' personalities, it wasn't another job. "You have to kind of always keep those things alive and be in touch with them as you're playing any moment, so it was hard," Odenkirk says. "Then 'Saul' ('Bad's' spinoff) was another level of hard."
Odenkirk says he was helped by actors like Rhea Seehorn and Bryan Cranston who would take a script apart and put it back together. "That acting, to me, is rewarding when it's hard, when you're trying to do something that's a little out of reach for you."
"Lucky Hank" gets to tap different skills. "I don't align perfectly with him, but his POV fits mine more. Saul was tough because he was kind of a younger guy than me. He was mentally younger than me and he had a hope and an innocence that I think I left behind a long time ago." Hank, he says, is more cynical and an idealist.
When life at Railton begins to implode and he and his wife become empty nesters, Hank Devereaux has to consider what he truly wants.
Early on in his own life, Odenkirk dreamed of being a novelist. "Jack Kerouac was my guiding light," the 60-year-old explains. "I've probably read 'On the Road' three times or more. In the course of experiencing college (he went to Southern Illinois University), I discovered sketch comedy and thought, 'Why don't you try to make it a career?'"
He read books about writing and then realized he didn't have the same skills as his idol. "I'm not a good enough writer in that way," he says. "If you read my memoir, you know what I mean. I could barely eke out a memoir, which doesn't ask for much."
Still enamored with the work, he says he has a children's book coming out next year. But, first, he has the series to consider and all that comes with it.
Balancing work and life is essential. "I have to do a better job because we don't get to carry on forever," Odenkirk says. "I want to make the right choices so I can feel like I'm doing the best I can with the time I have left for the things I love in this world. I don't think I've figured it out yet, but I'm working on it."
"Lucky Hank" premieres March 19 on AMC and AMC+.
[ad_2]

Source link