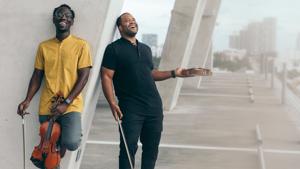 Karin A Canedo Moreno
El Inde Arizona

"It's starting to feel like home once you've been there three times," said violinist Kevin Sylvester, aka Kev Marcus, one half of the Black Violin duo with violist Wilner Baptiste, who goes by the stage name Wil B.
The pair's latest tour mixes classical music with original songs, hip hop, country and pop to create what they promise will be an experience.
"We have classical and hip hop, but there's some good jazz with some R&B," Sylvester said.
Black Violin started its 23-city tour on Feb. 24 in Bowling Green, Kentucky, and will continue through April, a much smaller trek than years past when the pair would do as many as 200 dates. Sylvester said they are deliberately slowing down this year to give themselves time to work on a new album.
"We've been getting older. We were trying to just kind of work smarter, not harder," he said. "So, we wanted to play a few places that we really care about."
The duo plans to get to work on the new album in April. It's a follow-up to their 2019 studio album "Take the Stairs." In 2020, they released a Christmas album, "Give Thanks."
Sylvester said they are in the initial planning stages for the new album, which could be released later this year or in early 2024.
Sylvester and Baptiste were nominated earlier this year for their second Grammy Award for their work with The Blind Boys of Alabama on the track "The Message." The pair attended the 65th Grammy Awards ceremonies in early February with the gospel group.
They lost to Bonnie Raitt, but Sylvester said the nomination "just goes to kind of show and hopefully help validate sort of the career that we've had and the impact and being able to build it from the bottom up and be able to get to a place where we get nominated for a Grammy."
You can catch Black Violin at 8 p.m. Tuesday, March 21, at Rialto Theater, 318 E. Congress St.
El Inde Arizona is a news service of the University of Arizona School of Journalism