[ad_1]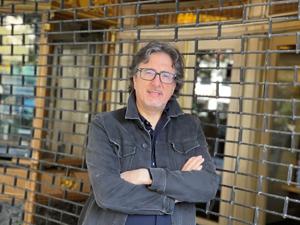 Marc Myers remembers walking through his co-ed college dorm in the mid-1970s.
Aerosmith was blasting from one end of the hallway, soothing Joni Mitchell from the other.
Fast forward to 2014, Myers found himself sitting on Joni Mitchell's Bel Air patio, chatting about her 1971 song "Carey."
"To be able to then interview her and spend quality time with her to talk about how that song was written and what went on in Crete, it was just an extraordinary afternoon," Myers recalled last month in a phone call to talk about his book "Anatomy of 55 More Songs: The Oral History of Top Hits That Changed Rock, Pop and Soul" that he will be discussing at the Tucson Festival of Books. He is on the Arizona Daily Star Stage at 1 p.m. Saturday, March 4.
"Anatomy of 55 More Songs" includes interviews with The Beach Boys, Earth, Wind & Fire, Carly Simon, Keith Richards, Journey and Sheryl Crow to name a few, talking about their iconic songs, from Huey, Lewis and the News's "The Power of Love" from the "Back to the Future" soundtrack to Redbone's "Come and Get Your Love" and Burt Bacharach and Hal David's "Walk On By," recorded by Dionne Warwick.
Myers, who played piano as a kid and was and is a huge jazz fan, interviewed the artists on the phone and, when possible, in person, like the 2014 interview with Mitchell in California.
"I ended up doing Mick Jagger. Mick Jagger is calling me up on the phone for an interview. You pick up the phone: 'Hello, Marc. It's Mick'," he recalled, affecting a British accent. "Or Keith Richards. It got to the point that I interviewed Keith twice. He loved it so much the first time when we did 'Street Fighting Man' that when I wanted to interview him again, which was a couple of years later, he calls up and he says, 'Hello, Marc. It's Keith.' 'Hey Keith, how you doing?' 'I'm fine. Are we doing the anatomy thing today? Get out the scalpels! Get out the surgery. We're doing the anatomy!' It was very, very funny."
The Journal launched the column about a year after Myers joined the staff late in his journalism career. After spending a few years writing for the New York Times right out of college, Myers spent the bulk of his early and mid career in financial journalism before his friend Terry Teachout, a well-respected New York theater and culture critic, suggested he write a blog about jazz.
"He told me, 'You know too much. You have to start a blog,'"Myers recalled.
In 2007, he took Teachout's advice and launched JazzWax.
In 2010, Teachout, who had been writing about theater for the Journal, invited Myers to lunch with one of his editors, who offered him a job writing about music.
"I always wanted to be doing what I'm doing now," Myers said. "I write on rock. I interview people like Mick Jagger, Keith Richards, Joni Mitchell. I'm a late bloomer. I come to this in 2010. I started at the New York Times, and then I weave around in all kinds of areas and then wind up writing about the very thing I wanted to write about, which is movie stars and rock stars."
"Anatomy of a Song" started with a suggestion from an editor. The first subject was Smokey Robinson. He interviewed Robinson, then wrote the column as a write-through, where he would control the narrative and add quotes from Robinson.
He wrote the first few columns this way before deciding that something was lacking.
"It just didn't feel organic to me," he said. "There was a lack of proximity. … I wanted (the reader) to feel Smokey's breath. I wanted them to see him and to feel as though he was talking to them."
He proposed changing the column to an oral history format, where the narrative comes from the artist. Myers wrote an intro that gave the historical context and the interviews were edited down for clarity and focus. But the columns were in the artists' voice, recalling what they were feeling, experiencing and thinking when they created a song that became part of the pop culture fabric.
Reader response to the oral history format was impressive, he said. And the artists were thrilled, as well. Here was a journalist calling them not about their latest personal tragedy, drug rehab or broken relationship. Myers wanted to know about their art.
Myers recalled his first interview with the Rolling Stones frontman Jagger.
What were they talking about, Jagger asked him. Your art; how you created "Moonlight Mile," Myers responded.
"Once he realized very quickly that I was there to talk about the art … what was going on emotionally with him, what was he feeling, what was he thinking. Why was that song being written at that particular time? Why couldn't he sleep on the train that night? Once he realized that it was going to be an art interview, he became very introspective, melancholy and very, very open," Myers said.
"I remember getting a letter from somebody who had written a book on the Stones," he added. "And the writer said, 'How the hell in 25 minutes did you get that from Mick Jagger? I spent eight years on my book and you got closer to that guy, emotionally, than I ever could.'"
[ad_2]

Source link