Associated Press

Injuries continue to pile up for the New York Yankees as they get ready to begin their AL East title defense.
Manager Aaron Boone told reporters Friday that outfielder Harrison Bader has an oblique issue. The injury puts Bader's availability for opening day in doubt.
The Yankees already had said pitchers Carlos Rodón, Frankie Montas, Tommy Kahle and Lou Trivino wouldn't be ready for the March 30 opener against San Francisco.
Rodón, starting a $162 million, six-year contract, has a left forearm strain that will cause him to open the season on the injured list. Rodón has been an All-Star the last two seasons and is expected to fill a major role on the Yankees' rotation.
Montas is recovering from shoulder surgery and won't begin throwing until at least late May. Kahle (biceps) and Trivno (elbow) are expected to be part of the bullpen.
DeGrom ready to start?
Jacob deGrom could make his first spring training start for the Texas Rangers on Monday.
The two-time NL Cy Young Award winner threw to hitters for the first time on Wednesday, when he was in the upper 90s with his fastball and hit 100 mph on the last of his 35 pitches.
Manager Bruce Bochy said deGrom will throw again Saturday and, if all goes well, could pitch against Arizona two days later.
"He's in a good place right now," Bochy said. "Knock on wood, all goes well with him, he'll have three outings here before he starts the season."
Texas signed deGrom to a $185 million, five-year contract in December. He spent his first nine big league seasons with the New York Mets. but injuries limited him to 156 1/3 innings in 26 starts over the past two seasons.
The right-hander threw about six bullpen sessions before arriving in Arizona, but was delayed in throwing in camp and reporting stiffness in his left side before the Rangers' first first workout Feb. 15.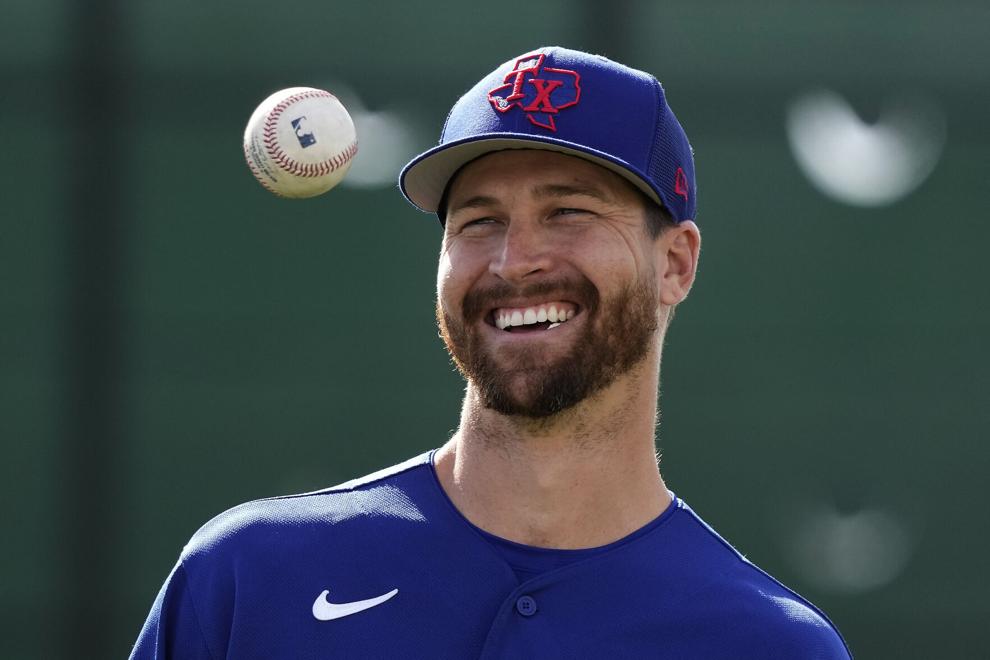 Verlander faces Astros
Justin Verlander, the three-time Cy Young Award winner who left Houston to sign an $86.7 million, two-year contract with the Mets, struck out five and allowed one run and three hits over 3 1/3 innings against his former team.
Mets outfielder Starling Marte played his first exhbition game and went 2 of 2 with a homer and a double in a 7-2 victory. Marte said he isn't at full strength yet but expects to get there by the start of the season.
Marte underwent offseason surgery to repair a core muscle injury.
"As I get stronger, as my body gets stronger throughout the next couple of weeks, I should be ready for opening day at 100%," Marte told reporters through an intepreter.
Diaz hit by pitch
Tampa Bay's Yandy Díaz left the Rays' exhibition game after a pitch from Atlanta's Ian Anderson hit him on the left hand.
Rays manager Kevin Cash said during the television broadcast of the game that X-rays appeared to be negative. This game had marked the infielder's return from a hip flexor injury.
Díaz batted .296 with nine homers, 57 RBIs and a .401 on-base percentage last season.
Tampa Bay got an encouraging performance from Jeffrey Springs, who struck out six of the 10 batters he faced in 3 1/3 innings of no-hit ball.
Painter sprains elbow
Philadelphia Phillies pitching prospect Andrew Painter has a sprained ulnar collateral ligament in his throwing elbow.
The Phillies announced Friday that the 19-year-old had undergone an MRI on March 3. A second opinion confirmed the UCL sprain. Painter made his spring training debut on March 1 and said the next day that he felt tenderness in his elbow.
Painter is expected to rest for four weeks from the date of the injury before beginning a light throwing program.
The Phillies selected Painter with the 13th overall pick in the 2021 amateur draft. He went 6-2 with a 1.56 ERA and 155 strikeouts in 103 2/3 innings last season in 22 starts at Class A and Double-A.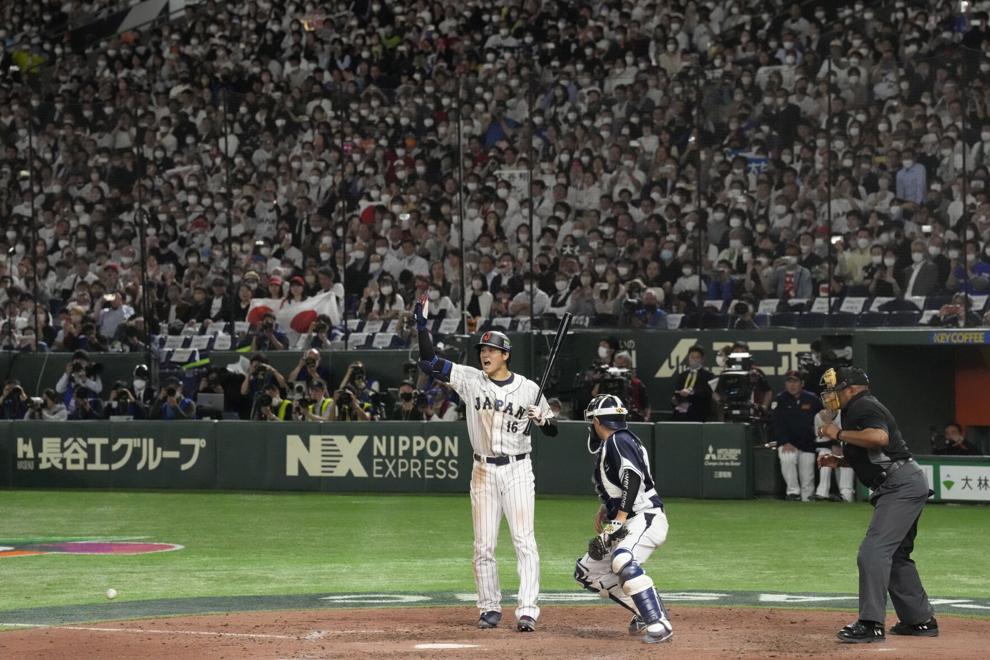 WBC results
JAPAN 13, SOUTH KOREA 4: Shohei Ohtani doubled and singled for his second straight two-hit game, and Japan overcame a three-run deficit to beat South Korea in Group B play Friday in Tokyo for its second straight win at the World Baseball Classic. Ohtani was intentionally walked as Japan scored four runs in the third inning to take a 4-3 lead, doubled and scored in a two-run fifth and hit an RBI single in a five-run sixth. The two-way star is 4 for 7 with two doubles, three RBIs and four walks in Japan's two games while allowing one hit over four scoreless innings on the mound.
TAIWAN 11, ITALY 7: Kuo-Chen Fan broke a 7-7 tie with a run-scoring infield single in the seventh off Joey Marciano and Kungkuan Giljegiljaw hit a three-run homer in the eighth as Taiwan overcame a three-run deficit to win its Group A game in Taichung, Taiwan.
CZECH REPUBLIC 8, CHINA 5: Martin Muzik hit a go-ahead, three-run homer following a double by his brother Matej in a four-run top of the ninth and The Czech Republic came back to beat China in a Group B game late Thursday night in Taichun, Taiwan.
CUBA 13, PANAMA 4: Yoán Moncada and Yadil Mujica drove in four runs each, and Yadir Drake had four hits as Cuba rebounded to beat Panama in a Group A game late Thursday night in Tokyo. Panama had a two-run homer from Rubén Tejada.