Associated Press

NEW YORK — Tyler Kolek and David Joplin each scored 17 points, and No. 6 Marquette moved into the Big East championship game for the first time by holding off No. 11 UConn 70-68 on Friday night.
Playing with three key players on the bench in foul trouble for a large chunk of time down the stretch, the top-seeded Golden Eagles (27-6) opened a four-point lead on a 3-pointer by Olivier-Maxence Prosper with 3:39 left and then held on at raucous Madison Square Garden.
UConn had a chance to tie or win in the final seconds, but coach Dan Hurley elected not to call a timeout as his team brought the ball across halfcourt. Jordan Hawkins missed badly on a contested, desperation 3 at the buzzer.
Marquette limited the fourth-seeded Huskies (25-8) to two points over the final 3:50 and kept them scoreless for the last 2 1/2 minutes, winning for the first time in four semifinal appearances at the Big East Tournament since joining the league in 2005.
Kam Jones added 14 points and Prosper scored 11 for the Golden Eagles, who will face No. 15 Xavier for the title Saturday night.
Adama Sanogo had 19 points and 11 rebounds to pace the Huskies, who had won six straight and nine of 10.
Marquette, the top seed in this tournament for the first time, has won eight in a row for the first time since the 2018-19 season.
(2) XAVIER 82, (3) CREIGHTON 60: Souley Boum scored 23 points, Jack Nunge added 17 and No. 15 Xavier cruised into the Big East Tournament championship game with a victory against No. 24 Creighton.
Coach Sean Miller's Musketeers (25-8) are looking for their first Big East Tournament title. Xavier has played in the final just once since joining the conference in 2013-14, losing to Villanova in 2015.
Ryan Kalkbrenner led Creighton (21-12) with 18 points on 7-for-7 shooting. The rest of the Bluejays went 14 for 49 from the field.
ACC
(4) DUKE 85, (1) MIAMI 78: Kyle Filipowski had 17 points and 11 rebounds, Jeremy Roach hit a huge 3-pointer at the 1:32 mark and No. 21 Duke held off No. 14 Miami in the Atlantic Coast Conference Tournament semifinals in Greensboro, North Carolina.
Roach's 3 from the left wing over Isaiah Wong with the shot clock going down proved to be the biggest shot, giving Duke (25-8) a 78-71 lead.
Wong had 22 points to lead the Hurricanes (25-7), who lost starting forward Norchad Omier to an early ankle injury.
First-year coach Jon Scheyer has the Blue Devils back in the championship game for the 17th time in 25 ACC tournaments. They will face Virginia.
(2) VIRGINIA 76, (3) CLEMSON 56: Jayden Gardner had 23 points and 12 rebounds, and No. 13 Virginia beat Clemson, sending coach Tony Bennett's team to the title game for the first time since 2018. The Cavaliers won it all that year.
Armaan Franklin scored 16 points and Kihei Clark added 13 for the Cavaliers (25-6), who shot 50% from the field while outscoring the Tigers 40-22 in the paint. Virginia will face Duke in Saturday's ACC title game.
Hunter Tyson made four 3-pointers and scored 15 points for Clemson (23-10), which is on the NCAA Tournament bubble.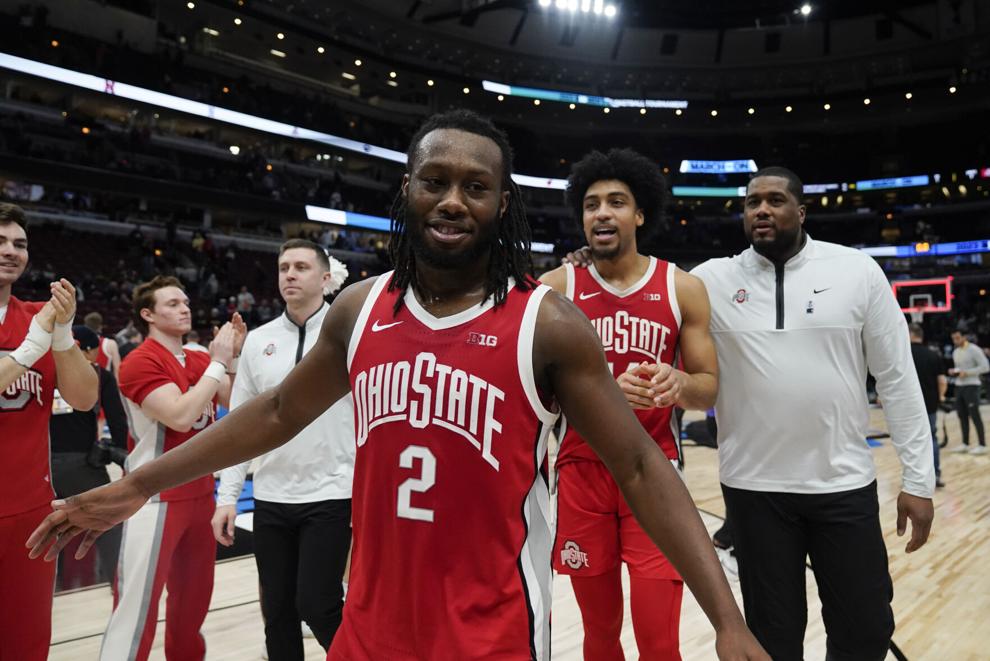 BIG TEN
(13) OHIO STATE 68, (4) MICHIGAN STATE 58: Bruce Thornton had 21 points and six assists, freshman Roddy Gayle Jr. scored seven of his season-high 15 points in the final five minutes and short-handed Ohio State upset Michigan State in the quarterfinals of the Big Ten Conference Tournament in Chicago. At No. 13, Ohio State became the lowest seed to ever reach the Big Ten semifinals.
The Buckeyes (16-18) will face Purdue on Saturday, looking for their first win in three tries this season.
Ohio State was without leading scorer Brice Sensabaugh, at 16.3 points per game, due to knee soreness. But Gayle, who hadn't scored in double figures since netting 12 points on Dec. 3 against St. Francis (Pa.), scored 12 points in the second half to make up for Sensabaugh's absence. Joey Hauser led Michigan State (19-12) with 15 points.
(3) INDIANA 70, (6) MARYLAND 60: Trayce Jackson-Davis scored 24 points, Jalen Hood-Schifino added 19 points, and No. 19 Indiana beat Maryland in the quarterfinals. The Hoosiers went on a 20-2 run in the second half to wipe out a seven-point deficit and got payback for a loss at Maryland on Jan. 31. They will face Penn State in the semifinals on Saturday.
Jackson-Davis finished with nine rebounds, seven assists and four blocks for the Hoosiers (22-10). Hood-Schifino added six rebounds and three blocks. Hakim Hart led Maryland (21-12) with 16 points.
(1) PURDUE 70, (9) RUTGERS 65: Mason Gillis had 20 points on 7-for-8 shooting, and No. 5 Purdue held off Rutgers for a rugged victory in the Big Ten Tournament quarterfinals.
With Zach Edey drawing his usual attention inside, the Boilermakers (27-5) got a big lift from Gillis and reserve guard David Jenkins Jr. Gillis grabbed nine rebounds, and Jenkins had a season-high 12 points. The 7-foot-4 Edey finished with 16 points and 11 boards.
Derek Simpson scored 18 points for Rutgers (19-14).
(10) PENN STATE 67, (2) NORTHWESTERN 65-OT: Seth Lundy scored 16 points, Jalen Pickett had 15 points and nine rebounds, and Penn State upset Northwestern in overtime to advance to the semifinals. It was Penn State's second overtime win over Northwestern in nine days after a 68-65 win on March 1.
Penn State (21-12) became the second double-digit seed to make the semifinals of the Big Ten Tournament this season — joining No. 13 Ohio State — after just two had done it in the preview 25 tournaments. The Nittany Lions advanced to their first semifinals since 2018.
Boo Buie had 16 points, and Brooks Barnhizer added 15 points and 11 rebounds for Northwestern (21-11).
BIG 12
(1) KANSAS 71, (5) IOWA STATE 58: Jalen Wilson had 25 points and 10 rebounds, Gradey Dick added 15 points and No. 3 Kansas beat Iowa State in Kansas City, Missouri, to reach the Big 12 Tournament title game.
Kansas (27-6) was playing its second game without Hall of Fame coach Bill Self, who is out following a medical procedure this week.
Jaren Holmes led the Cylonces (19-13) with 16 points. They now wait to see whether they receive an at-large NCAA tourney berth.
(2) TEXAS 66, (6) TCU 60: Dylan Disu and Christian Bishop scored 15 points apiece and No. 7 Texas beat No. 22 TCU in the semifinals. The Longhorns will play Kansas for the championship on Saturday night.
Texas (25-8) played its second straight game without Timmy Allen, who is dealing with a leg injury. Mike Miles scored 15 points and Chuck O'Bannon had 12 for the Horned Frogs (21-12), who couldn't replicate their hot shooting from a quarterfinal win over Kansas State.
PAC-12
(1) UCLA 75, (4) OREGON 56: Tyger Campbell scored a career-high 28 points, including all seven during a key second-half run, and No. 2 UCLA beat Oregon the Pac-12 Conference Tournament semifinals in Las Vegas.
The Bruins (29-4) will play No. 8 Arizona or Arizona State in Saturday's title game. UCLA has won 12 straight and 26 of 28, and one more victory likely would secure a No. 1 seed in the NCAA Tournament.
Oregon (19-14) had won four in a row. The Ducks are on the NCAA bubble. Quincy Guerrier and Will Richardson each scored 10 points for Oregon.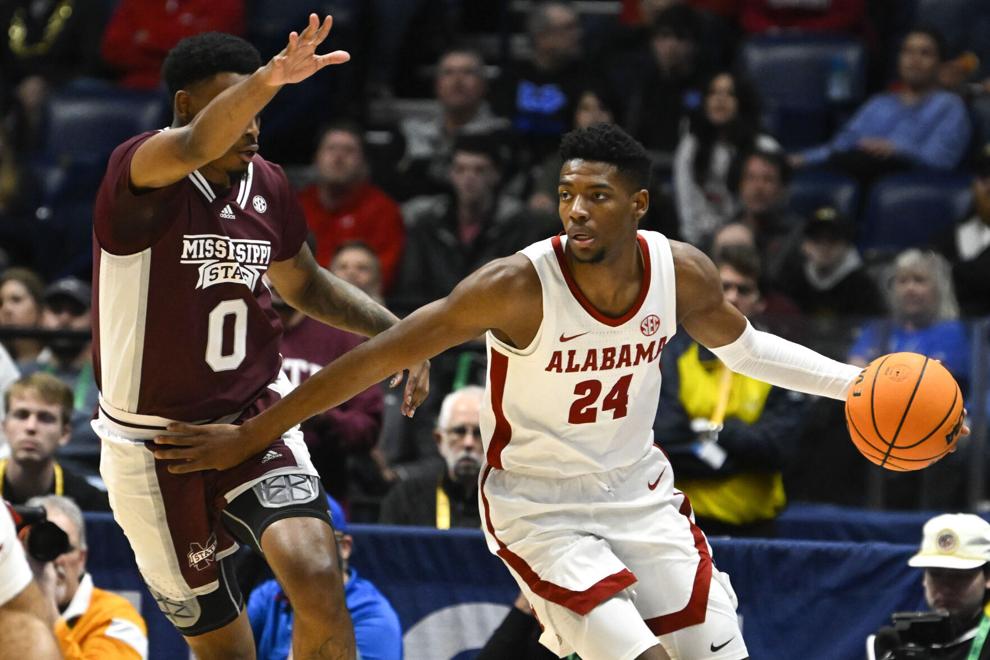 SEC
(1) ALABAMA 72, (9) MISSISSIPPI STATE 49: Brandon Miller had 18 points and nine rebounds and No. 4 ranked Alabama never trailed in a victory over Mississippi State in the quarterfinals of the Southeastern Conference Tournament in Nashville, Tennessee.
The Crimson Tide (27-5) set the pace in the first half, hitting eight-of-20 shots from long range. Charles Bediako and Noah Gurley added 11 points apiece for Alabama, and Jahvon Quinerly scored 10. Alabama will play Missouri on Saturday in the semifinals.
The Bulldogs (21-12) were scoreless in their first six possessions including a pair of turnovers. Tolu Smith led Mississippi State with 17 points and a game-high 11 rebounds.
(4) MISSOURI 79, (5) TENNESSEE 71: Nick Honor hit a 3-pointer with 1:45 left to put Missouri ahead to stay, and the 25th-ranked Tigers beat No. 17 Tennessee to reach the semifinals for the first time since joining the SEC. Missouri joined the SEC in 2012.
Missouri (24-8) won its fifth straight game this season to snap a three-game skid in the SEC quarterfinals. The Tigers did it by knocking off the defending tourney champs in a taut game featuring 15 ties and 11 lead changes. Five Vols (23-10) scored in double figures.
(2) TEXAS A&M 67, (10) ARKANSAS 61: Wade Taylor scored 18 points and No. 18 Texas A&M rallied from a 13-point deficit early in the second half to beat Arkansas in the quarterfinals. Texas A&M advanced for the second straight year to the semifinals. The Aggies ost to Tennessee in the 2022 championship game.
Henry Coleman III had 16 points and 11 rebounds for Texas A&M (24-8). Arkansas (20-13) must wait until Sunday's NCAA Tournament bracket announcement to learn its postseason fate. Nick Smith scored 16 points for the Razorbacks.
(6) VANDERBILT 80, (3) KENTUCKY 73: Ezra Manjon scored 25 point and Vanderbilt jolted No. 23 Kentucky by rallying from a 10-point deficit to beat the Wildcats in the quarterfinals.
Vanderbilt followed its first win at Rupp Arena since January 2007 last week by beating Kentucky to advance to Saturday's semifinals against No. 18 Texas A&M.
The Commodores (20-14) also posted their first 20-win season since 2014-15. Kentucky (21-11) appeared ready to cruise early with a 10-0 run going up 14-4. The Wildcats couldn't keep pace at the free throw line.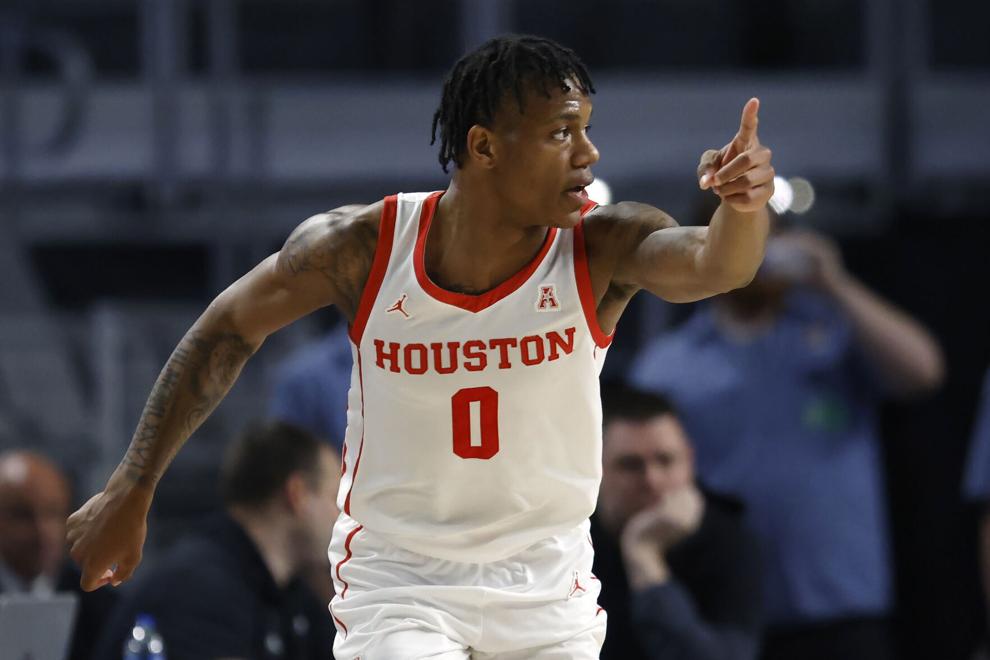 AAC
(1) HOUSTON 60, (9) EAST CAROLINA 46: Marcus Sasser scored 30 points and top-ranked Houston got its 30th win of the season with a victory over East Carolina in the quarterfinals of the American Athletic Conference Tournament in Fort Worth, Texas.
The Cougars (30-2) have back-to-back 30-win seasons for the first time since their Phi Slama Jama era. Jamal Shead added 12 points for Houston. Freshman forward Ezra Ausar had 18 points and a season-high 19 rebounds for East Carolina (16-17). Houston will play Cincinnati on Saturday in the semifinals.
(4) CINCINNATI 84, (5) TEMPLE 54: Landers Nolley II scored 22 points, Mika Adams-Woods and Dan Skillings Jr. each had 20, and Cincinnati (21-11) overwhelmed Temple (16-16) in the quarterfinals. Ody Oguama added 12 rebounds for the Bearcats, who finished strong after being down by 10 points less than seven minutes into the game.
(2) MEMPHIS 81, (7) UCF 76: DeAndre Williams' 35 point and 13 rebounds to lead the Memphis Tigers (23-8) over the UCF Knights (17-13) in the quarterfinals. Kendric Davis added 33 points for the Tigers. Memphis will play Tulane in the semifinals on Saturday.
(3) TULANE 82, (6) WICHITA STATE 76: Kevin Cross had 24 points and 13 rebounds, and Tulane beat Wichita State in the quarterfinals. Craig Porter Jr. had 22 points for Wichita State.
BIG WEST
(4) CS FULLERTON 83, (1) UC IRVINE 80: Latrell Wrightsell Jr. to lead Cal State Fullerton over UC Irvine in the semifinals of the Big West Tournament in Henderson, Nevada. Dawson Baker had 22 points for UC Irvine. Cal State Fullerton will play either UC Santa Barbara or UC Riverside in the title game Saturday.
CONFERENCE USA
(1) FLORIDA ATLANTIC 68, MIDDLE TENNESSEE 65: Led by Johnell Davis' 18 points, the Florida Atlantic Owls (30-3) defeated the Middle Tennessee Blue Raiders (19-14) in the semifinals of the Conference USA Tournament in Frisco, Texas. Davis also contributed four steals for the Owls, who will play UAB in the title game on Saturday.
(3) UAB 76, (2) NORTH TEXAS 69: Jordan Walker scored 32 points and the UAB Blazers (25-8) beat the North Texas Mean Green (26-7) in the semifinals. Walker also had six rebounds and six assists for the Blazers.
MAAC
(1) IONA 71, (5) NIAGARA 59: Led by Walter Clayton Jr.'s 22 points, the Iona Gaels (27-7) defeated the Niagara Purple Eagles (16-15) in the semifinals of the Metro Atlantic Athletic Conference Tournament. Clayton had six rebounds for the Gaels, who recorded their 13th straight victory. Iona will play Marist in the title game on Saturday.
(11) MARIST 69, (10) ST. PETER'S 57: Patrick Gardner had 18 points and 11 rebounds to lead the Marist Red Foxes (13-19) over the Saint Peter's Peacocks (14-18) to advance to Saturday's title game.
MAC
(1) TOLEDO 82, (5) OHIO 75: RayJ Dennis scored 28 points as Toledo beat Ohio in Cleveland to advance to the Mid-American Conference Tournament championship game. The Rocket (27-6), who won their 17th straight game, haven't been to the NCAA Tournament since 1980. Jaylin Hunter made seven 3-pointers and scored 27 points of Ohio (19-13).
(2) KENT STATE 79, (3) AKRON 73: Miryne Thomas scored 24 points and Sincere Carry added 21 as Kent State (27-6) beat rival Akron (22-11) in the semifinals to set up a matchup against Toledo. The Golden Flashes are seeking their first championship since 2017.
MEAC
(1) HOWARD 74, (4) MD-EASTERN SHORE 55: Led by Shy Odom's 16 points, the Howard Bison (21-12) defeated the Maryland-Eastern Shore Hawks (18-13) in the semifinals in Norfolk, Virginia. William Settle also scored 16 points for the Bison.
(3) NORFOLK STATE 72, (2) NC CENTRAL 65-OT: Joe Bryant Jr. had 23 points and 10 rebounds to lead Norfolk State past NC Central and into the title game against Howard. Bryant scored 10 points in overtime.
MOUNTAIN WEST
(1) SAN DIEGO STATE 64, (5) SAN JOSE STATE 49: Keshad Johnson and Darrion Trammell each scored 15 points and No. 20 San Diego State (26-6) beat San Jose State (20-13) in the Mountain West Conference Tournament semifinals in Las Vegas. The Aztecs advanced to the championship game for the sixth consecutive year. They will face either Utah State or Boise State on Saturday.
SWAC
(8) TEXAS SOUTHERN 74, (5) ALABAMA A&M 61: Led by PJ Henry's 26 points, the Texas Southern Tigers (13-20) defeated the Alabama A&M Bulldogs (15-18) in the semifinals of the Southwestern Athletic Conference Tournament in Birmingham, Alabama. Henry shot 7 for 19 (4 for 9 from 3-point range) and 8 of 10 from the free throw line for the Tigers (13-20). Davon Barnes scored 20 points and added 10 rebounds.
(2) GRAMBLING 78, (3) JACKSON STATE 69: Grambling beat Jackson State to reach the title game for the first time since 2011. They will play Texas Southern on Saturday.
WAC
(5) GRAND CANYON 78, (1) SAM HOUSTON 75: Kobe Knox scored 21 points and Grand Canyon beat San Houston to advance to the title game Saturday against either Utah Valley or Southern Utah.