Associated Press

MEMPHIS, Tenn. — Jamal Shead scored 16 points, including the winning basket as time ran out, and top-ranked Houston escaped a second-half rally by Memphis for a 67-65 win Sunday in the regular-season finale.
Memphis' Kendric Davis drove to the basket with nine seconds left and tied the game at 65. Houston chose not to call time out.
Shead then maneuvered along the top of the key, created some space from defender Elijah McCadden with a step-back move, let it go from about 18 feet and saw the ball nestle through the net as the lights around the basket showed time had expired.
"I knew coach (Kelvin Sampson) wouldn't call time out because we've been in that situation before and he trusts me," Shead said, adding: "God willing, I was able to make that shot."
Sampson said there was too much time left to call time out after Davis tied the game, noting that it also would have allowed Memphis coach Penny Hardaway to make adjustments, put in better defensive players and switch on all ball-screens.
"The difference is we had them in retreat," Sampson said. "When you get them back on their heels, then you can get a good shot."
Tramon Mark matched Shead's 16 points for Houston (29-2, 17-1 American Athletic Conference), while Marcus Sasser finished with 13. Shead also had seven assists.
Davis led Memphis (23-8, 13-5) with 26 points, while Chandler Lawson added 10.
A second-half run by Memphis, capped by a Davis 3-pointer, provided the Tigers a 56-51 lead. But they couldn't hold it, and Houston scored 10 straight points.
The matchup between the conference's top teams came two weeks after the Cougars defeated Memphis 72-64 on Feb. 19.
The first half was physical. Officials allowed some tough play near the basket, but Memphis still benefitted at the free throw line. At one point, Memphis had attempted 12 free throws to only one for the Cougars.
The Tigers couldn't keep pace with Houston's 3-point shooting, and the Cougars were up 41-32 at half. Memphis made four 3s before the midway point of the second half and took its first lead, 48-47, with 13 minutes left in the game.
"I had a bad game plan in the first half, and I'll put this on my back," Hardaway said. "My guys fourth for me. Got back in the game. Had a chance to win. Held them to 26 points in the second half. We'll just try to do better next time."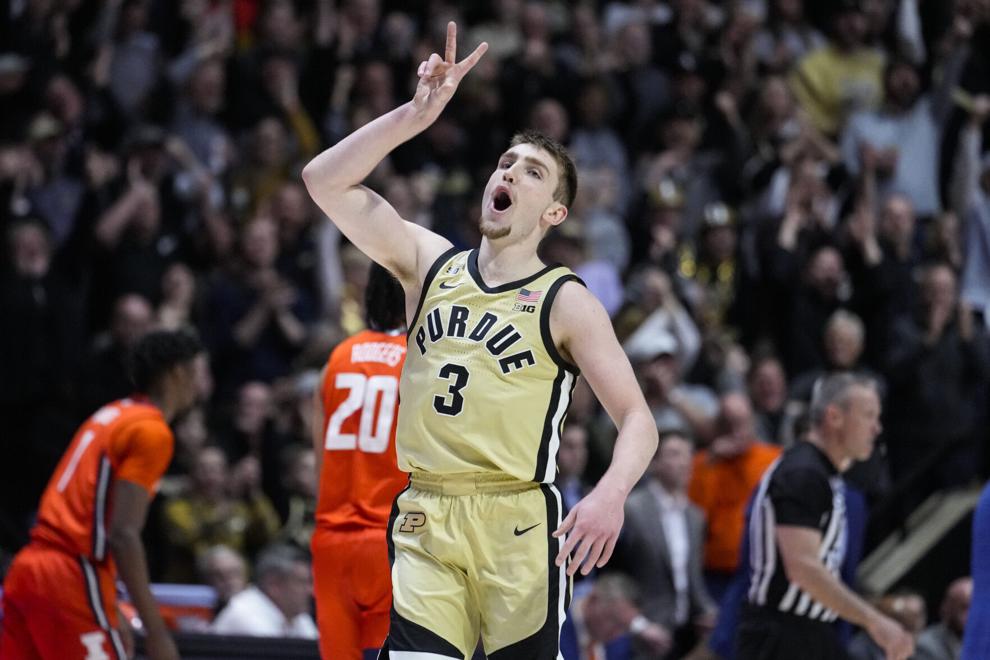 NO. 5 PURDUE 76, ILLINOIS 71: Brandon Newman scored 19 points, Zach Edey added 17 and Purdue held on to beat Illinois in West Lafayette, Indiana, and become the first team to win the Big Ten title by three or more games since 2014.
Braden Smith added 15 points for the Boilermakers (26-5, 15-5), who led by 24 early in the second half before the Illini rallied.
Matthew Mayer led the Illini (20-11, 11-9) with 16 points, followed by Terrence Shannon Jr. with 13, Sencire Harris with 11 and Luke Goode with 10.
The Boilermakers shot 62% for a 47-26 lead at half, but cooled to 29% in the second half.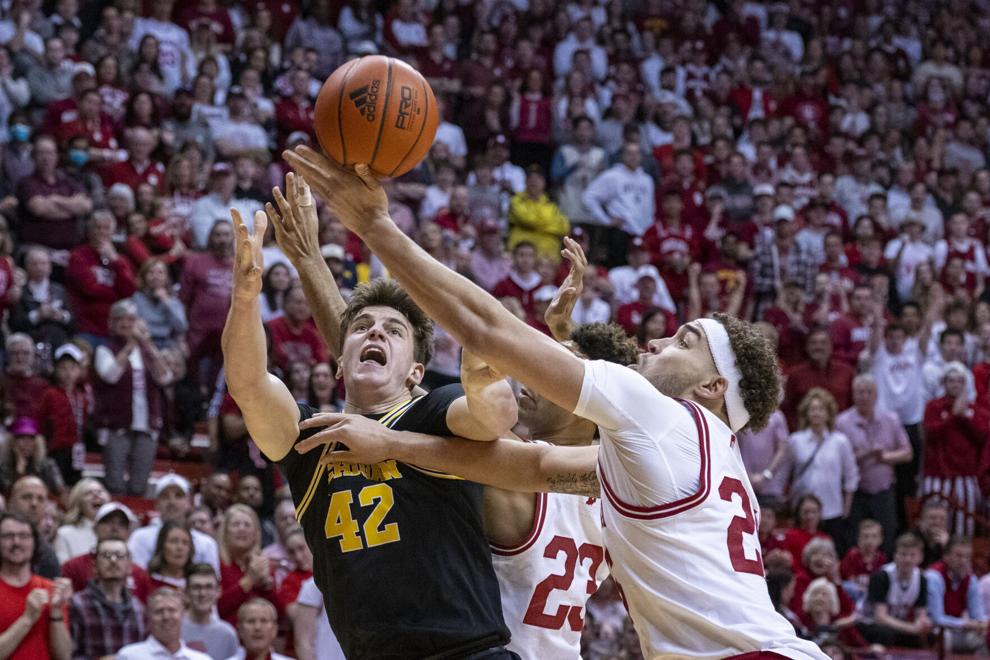 NO. 15 INDIANA 75, MICHIGAN 73-OT: Trayce Jackson-Davis had 27 points, nine rebounds and six assists in his final home game to lead Indiana past Michigan in an overtime thriller in Bloomington, Indiana. The Hoosiers sealed it with a steal on Michigan's final possession.
Indiana (21-10, 12-8) scored the first six points in overtime then held on to clinch a double bye into the Big Ten Tournament quarterfinals.
Hunter Dickinson led the Wolverines (17-14, 11-9) with 24 points and 14 rebounds but missed a shot that could have won it in the waning seconds of regulation. Kobe Bufkin had 19 points for the Wolverines.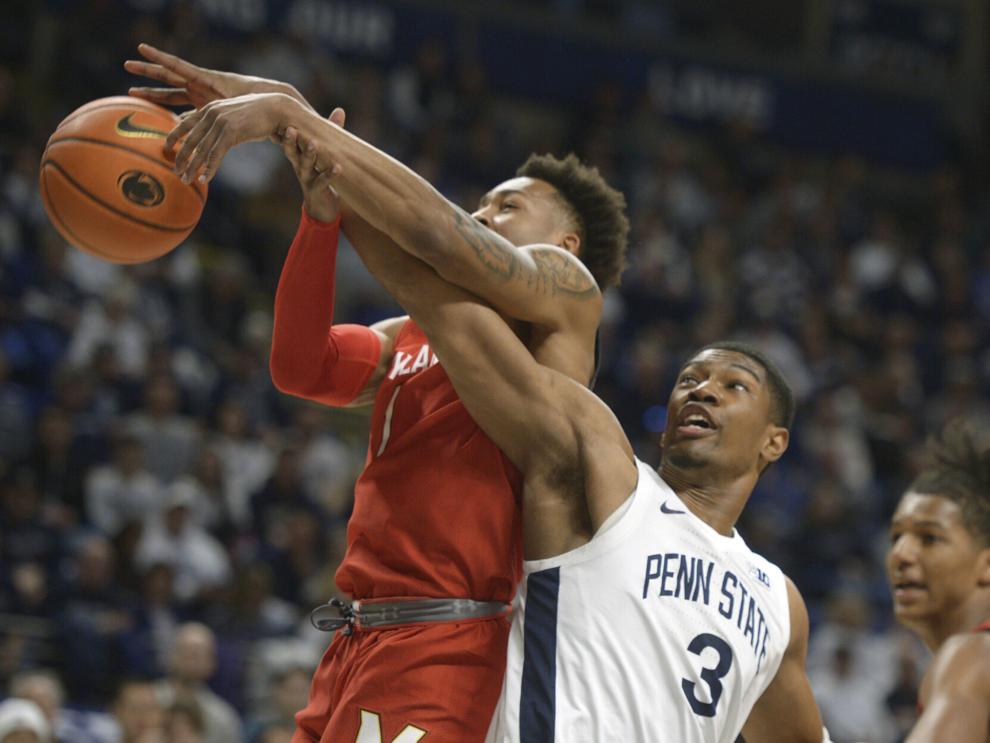 PENN STATE 65, NO. 21 MARYLAND 64: Camren Wynter made a layup with less than a second remaining to lift Penn State over Maryland in State College Park, Pennsylvania.
Jalen Pickett scored 16 points, Andrew Funk had 14 and Myles Dread had 11 for the Nittany Lions (19-12, 10-10 Big Ten), who trailed by as many as 16 late in the first half.
Jahmir Young scored 14 of his 26 points in the second half for the Terps (20-11, 11-9), who entered the afternoon looking to earn the No. 2 seed in the Big Ten Tournament. Julian Reese had 12 points for the Terps, while Don Carey and Ian Martinez added 11 each.
CONFERENCE CHAMPIONSHIPS
ASUN
(1) KENNESAW STATE 67, (2) LIBERTY 66: Terrell Burden scored 19 points and made a free throw with less than a second left to rally the Kennesaw State Owls (26-8) to a victory over the Liberty Flames (26-8) in Kennesaw, Georgia, earning the Owls their first Atlantic Sun Conference championship and their first trip to the NCAA Tournament. It is a remarkable turnaround for Kennesaw State under fourth-year coach Amir Abdur-Rahim. The Owls finished with a 1-28 record in 2019-20 — Burden's freshman season and the first under Abdur-Rahim.
BIG SOUTH
(1) UNC ASHEVILLE 77, (7) CAMPBELL 73: Drew Pember had 29 points, Tajion Jones scored 16 in the final 7:35 and the UNC Asheville Bulldogs (27-7) stormed back to beat the Campbell Fighting Camels (16-18) in Charlotte, North Carolina, winning the Big South Conference Tournament championship and advancing to the NCAA Tournament for the fifth time. Jo'Shon Henry scored 10 points and was the only player in double figures for Bradley.
MISSOURI VALLEY
(2) DRAKE 77, (1) BRADLEY 51: Tucker DeVries scored 22 points and the Drake Bulldogs (27-7) raced to their sixth NCAA Tournament berth with a romp past the Bradley Braves (25-9) in the MVC tournament championship game in St. Louis. Garrett Sturtz and Darnell Brodie added 12 points apiece for the Bulldogs, who were in the title game for the third-straight year, losing the first two to Loyola of Chicago. They last won the tournament in 1996.
CONFERENCE TOURNAMENTS
BIG SKY
(9) NORTHERN ARIZONA 81, (1) EASTERN WASHINGTON 80: Xavier Fuller and Nik Mains scored 16 points each and the Northern Arizona Lumberjacks (11-22) upset the Eastern Washington Eagles (22-10) in Boise, Idaho. Northern Arizona will face Monday's winner of fourth-seeded Montana and fifth-seeded Idaho State on Tuesday.
2) MONTANA STATE 84, (8) NORTHERN COLORADO 73: The Montana State Bobcats (23-9) beat the Northern Colorado Bears (12-20 in Boise, Idaho. Montana State will face Monday's winner of third-seeded Weber State and sixth-seeded Sacramento State on Tuesday.
CAA
(1) Hofstra 94, (8) WILLIAM & MARY 46: Aaron Estrada had 22 points and 10 rebounds, Tyler Thomas also scored 22 and the Hofstra Pride (24-8) routed William & Mary Tribe (13-20) in Washington, D.C. Hofstra will play UNC Wilmington in the semifinals on Monday.
(4) UNC WILMINGTON 73, (5) DREXEL 68: Nick Farrar scored 19 points to lead the UNC Wilmington Seahawks (23-9) over the Drexel Dragons (17-15) in Washington, D.C. UNC Wilmington will play Hofstra in the semifinals on Monday.
(2) CHARLESTON 74, (10) STONY BROOK 52: Ante Brzonvic had 15 points and seven rebounds to lead the Charleston Cougars (29-3) past the Stony Brook Seawolves (11-22) in Washington, D.C. Charleston will play Towson in the semifinals on Monday.
(3) TOWSON 86, (6) DELAWARE 60: Nicolas Timberlake had 19 points and nine rebounds to lead the Towson Tigers (21-11) to a victory over the Delaware Fightin' Blue Hens in Washington, D.C. Towson will play Charleston in the semifinals on Monday.
PATRIOT LEAGUE
(1) COLGATE 91, (4) ARMY 74: Oliver Lynch-Daniels scored 21 points and the Colgate Raiders defeated the Army Black Knights in Hamilton, New York. Colgate will play at home against Lafayette in the championship game on Wednesday.
(6) LAFAYETTE 84, (7) AMERICAN 76-2OT: Leo O'Boyle scored 23 points and the Lafayette Leopards (11-22) needed double overtime to beat the American University Eagles (17-15) in Lafayette, Pennsylvania. Lafayette will play at Colgate in the championship game on Wednesday.
SOUTHERN
(1) FURMAN 83, (4) WESTERN CAROLINA 80: Mike Bothwell scored 26 points, and JP Pegues added 24, including a go-ahead free throw with 28 seconds remaining in overtime, to lead the Furman Paladins (26-7) over the Western Carolina Catamounts (18-15) in Asheville, North Carolina. Furman will face Chattanooga in the championship game on Monday.
(7) CHATTANOOGA 74, (6) WOFFORD 62: Jake Stephens had 25 points and seven rebounds to lead the Chattanooga Mocs (18-16) over the Wofford Terriers (17-16) in Asheville, North Carolina. Chattanooga will take on Furman in the championship game on Monday.
SOUTHLAND
MCNEESE STATE 79, (5) TEXAS A&M-COMMERCE 78: Christian Shumate scored 28 points and the McNeese State Cowboys (10-22)won their opening round game against the Texas A&M-Commerce Lions (13-20) in Lake Charles, Louisiana. McNeese State will play fourth-seeded Nicholls State in the quarterfinals on Monday.
(7) NEW ORLEANS 90, (6) HOUSTON CHRISTIAN 69: Jordan Johnson scored 29 points and the New Orleans Privateers (11-19) opened tournament play with a victory over the Houston Baptist Huskies (10-22) in Lake Charles, Louisiana. New Orleans will play third-seeded Southeastern Louisiana in the quarterfinals on Monday.
SUMMIT LEAGUE
(5) St. THOMAS-MN 67, (4) WESTERN ILLINOIS 60: The St. Thomas Tommies (19-13) beat the Western Illinois Leathernecks (16-14) in Sioux Falls, South Dakota. St. Thomas will take on top-seeded Oral Roberts in the semifinals on Monday.
(3) NORTH DAKOTA STATE 70, (6) SOUTH DAKOTA 68: The North Dakota State Bison (15-16) beat the South Dakota State Coyotes (12-19) in Sioux Falls, South Dakota. XXX will take on second-seeded South Dakota State in the semifinals on Monday.
SUN BELT
(8) SOUTH ALABAMA 75, (4) JAMES MADISON 66: Isaiah Moore had 18 points, Owen White added 17 and the South Alabama Jaugars (19-15) beat the James Madison Dukes (22-11) in Pensacola, Florida. South Alabama will take on Louisiana in the championship game on Monday.
(2) LOUISIANA 64, (11) TEXAS STATE 58: The Louisiana Ragin' Cajuns (25-7) beat the Texas State Bobcats (16-18) in Pensacola, Florida. Louisiana will take on South Alabama in the championship game on Monday.