Associated Press

BLOOMINGTON, Ind. — Kris Murray scored 26 points, Tony Perkins flirted with the first triple-double in Iowa history and the Hawkeyes beat No. 15 Indiana 90-68 on Tuesday night.
Perkins had 23 points, 10 rebounds and a career-high eight assists in his return to his home state.
Just three days after rallying from a 13-point deficit in the final 94 seconds of this season's highest-scoring Big Ten game against Michigan State, the Hawkeyes never trailed and produced the most first-half points in a league contest this season.
Trayce Jackson Davis led the Hoosiers with 26 points and 13 rebounds. But the expected celebration for Jackson-Davis' milestone night was tainted by Indiana's inexplicably poor showing.
Jackson-Davis passed Alan Henderson and Walt Bellamy to become the school's career rebounding leader with 1,096 — on a night the Hoosiers (20-10, 11-8) lost their fourth in a row in the series.
Yes, the Hoosiers looked flat after beating rival Purdue on Saturday, and Iowa wasted no time taking advantage.
The Hawkeyes (19-11, 11-8) scored the first six points of the game, quickly extended the margin to 16-5 and still led 47-36 at halftime. The Hawkeyes then used a 14-2 second half run to make it 61-40 and continued pulling away over the final 15 1/2 minutes.
It was Indiana's worst home loss since Purdue-Fort Wayne beat the Hoosiers by 20 in December 2017.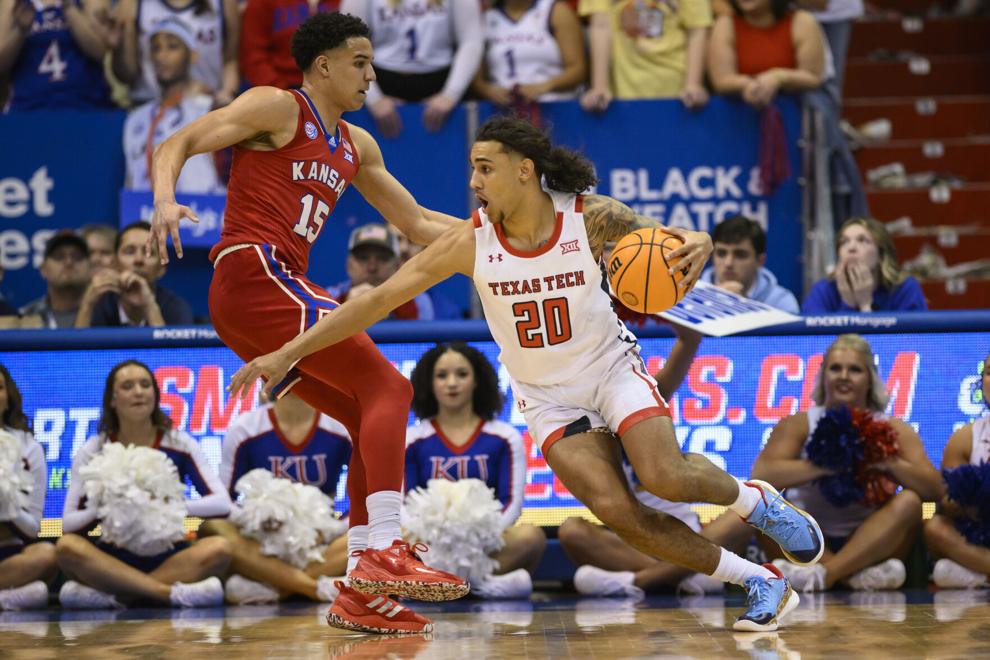 NO. 3 KANSAS 67, TEXAS TECH 63: Jalen Wilson scored 21 points in his Allen Fieldhouse farewell, fellow senior Kevin McCullar Jr. added 14 and Kansas held off Texas Tech in Lawrence to clinch a share of the Big 12 regular-season title.
Dajuan Harris had 16 points for the Jayhawks (25-5, 13-4), who would capture the outright crown if ninth-ranked Texas loses to No. 22 TCU on Wednesday night. Otherwise, the Jayhawks would need to beat the Longhorns in a head-to-head showdown Saturday in Austin.
De'Vion Harmon had 15 points to lead Texas Tech (16-14, 5-12), while Kevin Obanor added 14. Fardaws Aimaq had 13 points and 18 rebounds, and Pop Isaacs finished with 11 points.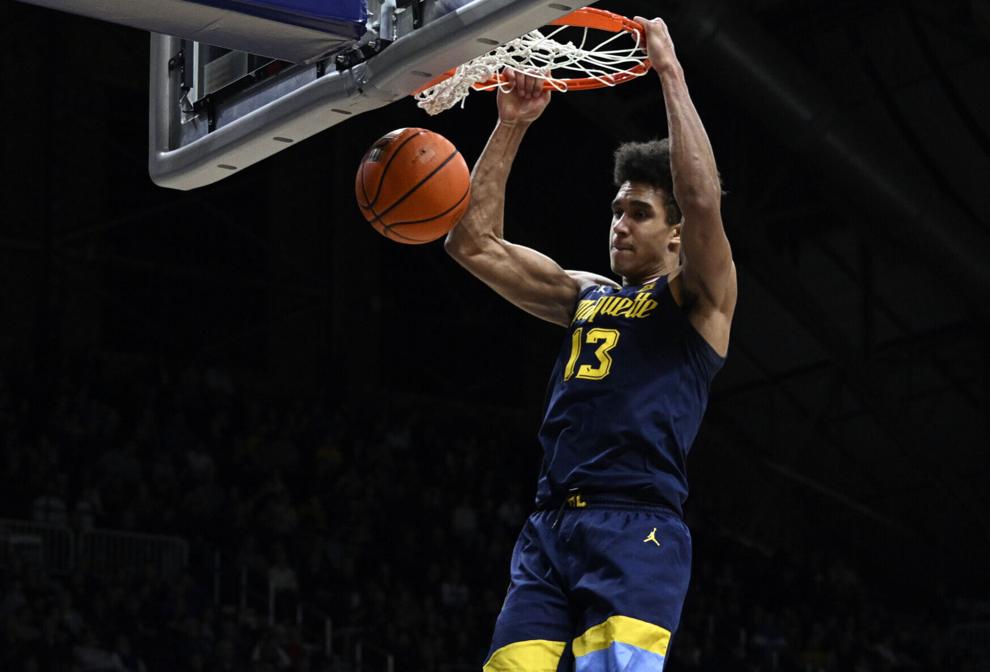 NO. 6 MARQUETTE 72, BUTLER 56: Tyler Kolek had 21 points and 10 assists, and Marquette (24-6, 16-3) clinched its first outright Big East championship by beating Butler (14-16, 6-13) in Indianapolis. The victory was the fifth in a row and 10th in 11 games for the surprising Golden Eagles, picked ninth by the league's coaches in the preseason poll.
This week, Marquette ascended to its highest ranking in the AP Top 25 since it was No. 1 in 1978. Marquette, which had already secured a share of its first Big East title since 2013, had not won an outright regular-season crown since doing so in Conference USA in 2003.
NO. 12 TENNESSEE 75, ARKANSAS 57: Olivier Nkamhoua scored 16 points to lead Tennessee (22-8, 11-6 SEC) over Arkansas (19-11, 8-9) in Knoxville.
Despite the win, the Volunteers may have sustained a significant loss. Three minutes into the game, sophomore point guard Zakai Zeigler, who brings energy on offense and defense, went down with an injury to his left knee. The extent of the injury wasn't immediately known, but he did not return.
Santiago Vescovi, who took over the role of point guard for Zeigler, added 14 points and Josiah-Jordan James scored 11. Anthony Black and Davonte Davis each scored 13 for the Razorbacks. Nick Smith Jr. scored 14 and Ricky Council 11.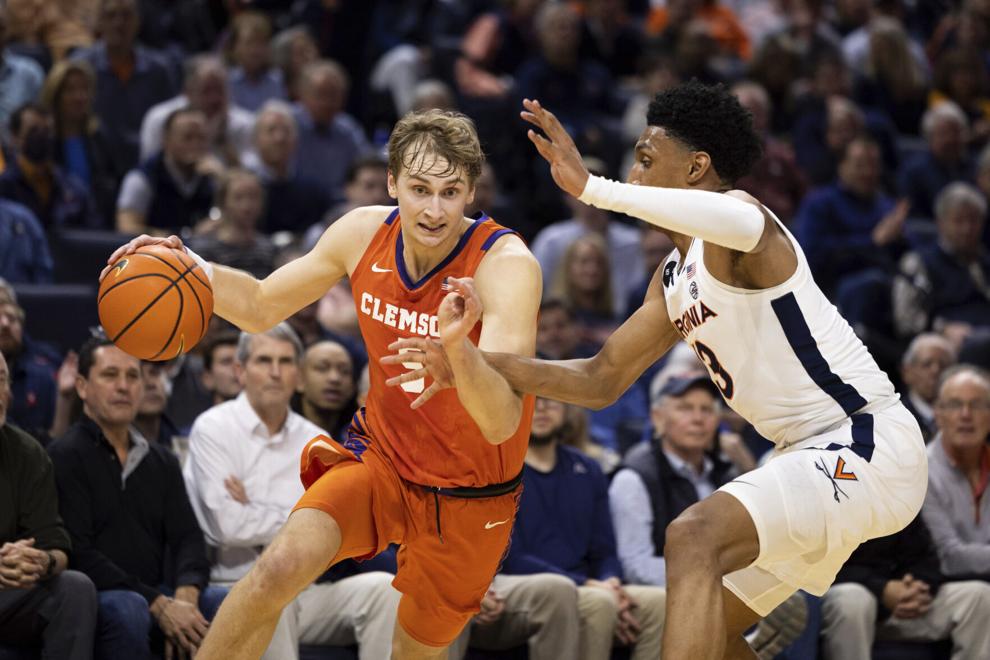 NO. 13 VIRGINIA 64, CLEMSON 57: Jayden Gardner had 12 points and nine rebounds, Armaan Franklin and Isaac McKneely each scored 12, and Virginia (22-6, 14-5 ACC) outlasted visiting Clemson (21-9, 13-6) in Charlottesville. The Cavaliers moved into a tie for second place in the league with No. 16 Miami with one game remaining.
PJ Hall led the Tigers with 19 points and Hunter Tyson had 17. Clemson got within 59-55 with 33 seconds left, but Virginia made five free throws and had a steal, sending the Tigers to their fifth loss in eight games.
BOISE STATE 66, NO. 18 SAN DIEGO STATE 60: Max Rice scored 26 points and reeled off 12 straight points in a 14-0 run to close out the game, and Boise State upset visiting San Diego State in Boise. The Broncos (23-7, 13-4 Mountain West) avenged a 20-point loss to San Diego State (23-6, 14-3) on Feb. 3 and remained perfect at home in conference play.
It was the Broncos' first win over a ranked team this season. San Diego State, which had already claimed a share of the conference crown with its buzzer-beating win over New Mexico on Saturday, failed to hold onto a late nine-point lead.
NO. 24 TEXAS A&M 69, OLE MISS 61: Tyrece Radford scored 13 points as Texas A&M erased an early 12-point deficit to beat host Mississippi in Oxford.
Wade Taylor IV added 12 points and seven assists and Julius Marble scored 10 for the Aggies (22-8, 14-3 SEC), who went 13 of 16 from the free-throw line in the second half to stave off the Rebels' attempt at a late rally.
Texas A&M trailed 20-8 after seven minutes but took a 29-26 lead on Taylor's 3-pointer with 4:06 left in the first half. The Aggies never trailed again. Matthew Murrell made 8 of 11 from 3-point range and scored 26 points to lead Ole Miss (11-19, 3-13).
TOURNAMENTS
ATLANTIC SUN
KENNESAW STATE 67, QUEENS (NC) 64: Led by Demond Robinson's 24 points, top-seeded Kennesaw State (24-8) survived No. 9 seed Queens (18-15) in the quarterfinals of the Atlantic Sun Conference Tournament Championship in Kennesaw, Georgia. Kennesaw State hosts fifth-seed Lipscomb on Thursday.
EASTERN KENTUCKY 73, NORTH ALABAMA 48: Led by Devontae Blanton's 15 points, third-seeded Eastern Kentucky (20-12) defeated No. 2 seed North Alabama (18-14) in a quarterfinals game in Richmond, Kentucky. EKU will play second-seeded Liberty on Thursday.
LIPSCOMB 83, STETSON 70: Led by Jacob Ognacevic's 22 points, fifth-seeded Lipscomb (20-12) defeated No. 4 seed Stetson (17-13) in a quarterfinals game in Deland, Florida. Lipscomb will take on top-seeded Kennesaw State on Thursday.
LIBERTY 76, BELLARMINE 56: Darius McGhee had 29 points in second-seeded Liberty's quarterfinal victory over No. 8 seed Bellarmine in Lynchburg, Virgina. McGhee added six assists and three steals for the Flames (25-7). Liberty will host No. 3 seed Eastern Kentucky on Thursday.
HORIZON LEAGUE
DETROIT MERCY 81, FORT WAYNE 66: Antoine Davis scored 38 to move within 25 points of tying Pete Maravich's NCAA record and No. 8 seed Detroit Mercy (14-18) beat No. 9 Purdue Fort Wayne (17-15) in the Horizon League Tournament. Davis will have another opportunity to reach Maravich's career scoring record of 3,667 on Thursday when Detroit faces No. 1 seed Youngstown State.
ROBERT MORRIS 67, IUPUI 64: Kahliel Spear scored 17 points and Michael Green III knocked down the game-winning 3-pointer with two seconds left as sixth-seeded Robert Morris (16-16) beat IUPUI (5-26) in Moon Township, Pennsylvania. Robert Morris will face No. 3 seed Cleveland State in the quarterfinals on Thursday.
WRIGHT STATE 77, GREEN BAY 57: Led by Brandon Noel's 20 points, seventh-seeded Wright State (18-14) opened its tournament with a win over No. 10 seed Green Bay (3-29) in Dayton, Ohio. Wright State will play No. 2 seed Milwaukee in the quarterfinals on Thursday.
PATRIOT LEAGUE
AMERICAN 64, BUCKNELL 59: Led by Johnny O'Neil's 19 points, seventh-seeded American (16-14) defeated No. 10 seed Bucknell (12-19) in the Patriot League Tournament's first round in Washington. American takes on No. 2 seed Navy on Thursday.
LOYOLA (MD) 73, HOLY CROSS 69: Led by Deon Perry's 25 points, eighth-seeded Loyola (13-19) won its tourney opener against No. 9 seedHoly Cross (10-22) in Baltimore. Loyola will face top-seeded Colgate in a quarterfinals on Thursday
SUN BELT
ARKANSAS STATE 86, COASTAL CAROLINA 69: Led by Terrance Ford Jr.'s 25 points, 13th-seeded Arkansas State (13-19) defeated No. 12 seed Coastal Carolina (11-20) in the first-round of the Sun Belt Conference Tournament in Pensacola, Florida. Arkansas State plays fifth-seeded Troy on Thursday.
TEXAS STATE 81, GEORGIA STATE 76: Led by Drue Drinnon's 16 points, 11th-seeded Texas State defeated No. 14 seed Georgia State in the first round of tournament play in Pensacola, Florida. Texas State plays No. 6 seed Old Dominion on Thursday.