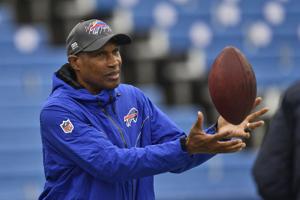 ASSOCIATED PRESS

The Buffalo Bills coaching staff has a big hole to fill at defensive coordinator after Leslie Frazier informed the team he is taking a year off from coaching but plans to return for the 2024 season.
Speaking at the NFL combine in Indianapolis on Tuesday, coach Sean McDermott cited what was a "long and hard season" in saying Frazier informed him of the decision last week. McDermott did not go into further detail on the reasons behind his longtime trusted adviser's decision to step away from football.
"We'll miss him. I thought he did a really good job with our defense," McDermott said of a decision that came a little more than five weeks after the three-time defending AFC East champion Bills were eliminated with a 27-10 loss to Cincinnati in the divisional round of the playoffs.
General manager Brandon Beane provided a few more details on Frazier's reasoning by saying: "Ultimately, he didn't want to retire. He's not there in his mind, but he just wanted to take a step back."
While Frazier, who is still under contract with the Bills, intends to return to coaching, Beane said it's not clear whether that will be with Buffalo.
As for Frazier's immediate replacement, McDemott said he was still evaluating who will oversee the defensive play-calling duties next season. And McDermott didn't rule out himself for the job, given he has spent a majority of his 25 seasons in the NFL overseeing defenses.
"That's a big part of the consideration," McDermott said. "I'm extremely confident in the guys that we have and the coaches that we have already in our building. So we'll just see where it goes."
AP source: Panthers to meet with Carr at combine
CHARLOTTE, N.C. — The Carolina Panthers will meet with free agent quarterback Derek Carr this week at the NFL scouting combine in Indianapolis, according to a person familiar with the situation.
The person spoke to The Associated Press on condition of anonymity Tuesday because the team doesn't announce its meetings with free agents. The NFL Network was first to report the planned meeting.
The Las Vegas Raiders released Carr on Feb. 14 rather than pay him $40.4 million in guaranteed money.
The 31-year-old Carr already has met with the New York Jets and the New Orleans Saints. Jets general manager Joe Douglas said while speaking at the combine that the team will meet again with Carr sometime this week in Indianapolis.
Falcons cut Mariota
ATLANTA — The Atlanta Falcons released quarterback Marcus Mariota on Tuesday, a move that was expected after the veteran was benched late in the season.
The Falcons were 5-8 with Mariota as the starter before rookie Desmond Ridder started the final four games, winning two.
Mariota signed a $10.5 million, two-year deal with Atlanta after the Falcons traded longtime starter Matt Ryan to Indianapolis. Mariota completed 184 of 300 passes for 2,219 yards with 15 touchdowns and nine interceptions. He rushed for 438 yards and four touchdowns.
After Mariota was benched, he left the team to have season-ending knee surgery. The Falcons are expected to save approximately $12 million in salary cap space by cutting Mariota.
GIANTS: A person familiar with the situation says the New York Giants have told Kenny Golladay and his agent he will be released on March 15 after two horrible seasons. The person spoke to The Associated Press on condition of anonymity Tuesday because the team doesn't plan to announce the move until it is official.
BROWNS: Cleveland general manager Andrew Berry says the team intends to release veteran safety John Johnson III after two seasons. Speaking at the NFL combine in Indianapolis, Berry said the Browns will soon part ways with Johnson, who signed a $33.75 million contract with the team as a free agent in 2021.
WATSON: The record-setting contract Deshaun Watson received from the Browns could undergo some revising. Cleveland general manager Andrew Berry indicated the team may restructure the five-year, $230 million deal it used to entice Watson to agree to a trade from Houston to the Browns one year ago. Berry said a restructuring of Watson's deal "could be on the table."
CROSS: Former Philadelphia Eagle and CBS NFL announcer Irv Cross has been diagnosed with the brain disease CTE. Cross was 81 when he died Feb. 28, 2021. Boston University researchers say Cross suffered from chronic traumatic encephalopathy.
COMMANDERS: The Washington Commanders have put the franchise tag on standout defensive tackle Daron Payne. The tag is worth just over $18.9 million for next season. Payne was set to become a free agent next month after Washington previously did not pick up his fifth-year option.
EAGLES: The Philadelphia Eagles have promoted quarterbacks coach Brian Johnson to offensive coordinator. Johnson replaces Shane Steichen after he left to become head coach of the Indianapolis Colts. The Eagles also hired Sean Desai as defensive coordinator. They hired him away from his role as associate head coach with the Seattle Seahawks. 
49ERS: San Francisco quarterback Brock Purdy's delayed surgery could happen next week if the swelling in his injured elbow has been reduced. Purdy was originally scheduled to undergo the operation last week to repair his throwing elbow that got hurt in the NFC championship game. But Dr. Keith Meister delayed the operation because Purdy's elbow was too swollen.